peggy lampman's dinnerfeed
recipe:

Basil Pesto Shrimp and Pasta - quality ingredients make a big difference

Posted on Mon, Jul 30, 2012 : 4:35 a.m.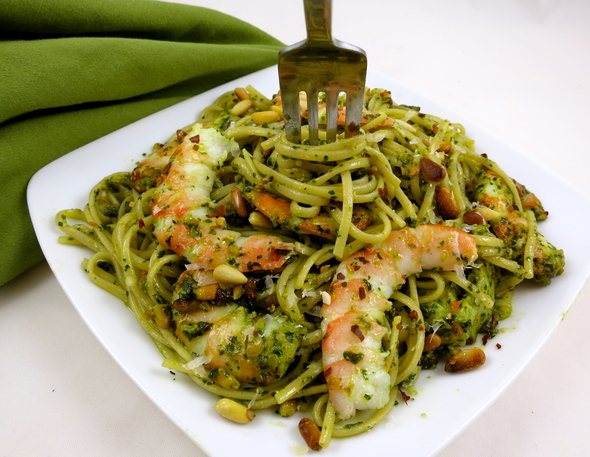 Peggy Lampman | Contributor

To receive my lastest dinnerFeed posts
by email, sign up here.
Even the pickiest eaters, or those folks who steer clear of any dish that sounds "foreign", enjoy this recipe. Perhaps because the name pesto has so morphed into American food nomenclature, some may not know it's an Italian classic.
Unfortunately much of what's out there — little jars on grocery shelves, fast-food chains using the name to sell a menu item — bears little resemblance to the scratch-made pestos I adore.
Traditionally pesto is made with a mortar and pestle. The word "pesto" is derived from the Italian "pestare," a verb that means to pound or crush, but to save time, I use a food processor. Some favorite pestos I've used in various recipes include lemony almond-dill pesto, wasabi-cilantro pesto, and an almond, basil, parsley and mint — delicious served with chicken or seafood.
My favorite pesto, when its all said and done, will always be the classic basil-based. I only use freshly harvested basil, Parmigianno Reggiano (meaning that cow that supplied that milk for that cheese did not step one hoof out of the Emilia-Romagna countryside), and the best quality extra virgin olive oil my purse will allow. I take the extra step of toasting the pine nuts and garlic. The garlic flavor sweetens and is less "raw," and toasting the nuts lends a crunchy earthiness.
If you're not growing your own basil, you can always find big bags of fresh harvested leaves at the Kerrytown Farmers Market, which are reasonable priced as this time of the year. Make a big batch and freeze the leftovers.
(Note: Pennings from our recent culinary journey through Ireland found here.)
Yield: 4 servings Time (if shrimp is cooked): 30 minutes
Ingredients
1/2 cup pine nuts, plus extra for garnish
2 large garlic cloves, peeled
2 cups fresh harvested basil leaves, washed, stems and flowers removed

1/2 cup extra-virgin olive oil
1/2 cups grated Parmigianno Reggiano
3/4 pound (12 ounces) dry linguini
1 pound large or extra large cooked shrimp*
Crushed red pepper, optional
*1 boiled frozen (then thawed) Key West pink shrimp purchased from Whole Foods.
Instructions
1. Preheat oven or toaster oven to 350 degrees. Bring a large pot of salted water to a boil.
2. Toast the pine nuts and garlic in the oven until golden brown, 3-5 minutes.
3. To make the pesto, in a food processor, purée the garlic with 2 tablespoons oil until smooth. Add the pine nuts to the bowl and, with off and on pulses, pulse until semi-pureed yet coarse. With a spatula, scrape garlic-nut mixture from the bowl into another bowl and reserve.
4. In batches, place the basil leaves in the food processor and, with the addition of remaining olive oil, puree until smooth.
5. Combine basil mixture with garlic-nut mixture. Stir in Parmesan and season to taste with kosher salt and freshly ground pepper. (The pesto will remain fresh, tightly covered, several days refrigerated.)
6. Cook pasta in boiling water according to package instructions, until it is just tender at the center, but not falling apart.
7. Slice the cooked shrimp through the center, sandwich-style. Toss with pasta and pesto and add red pepper to taste, if using.