Peggy Lampman's Tuesday dinnerFeed: Seriously simple black bean soup
Posted on Tue, May 11, 2010 : 4:28 a.m.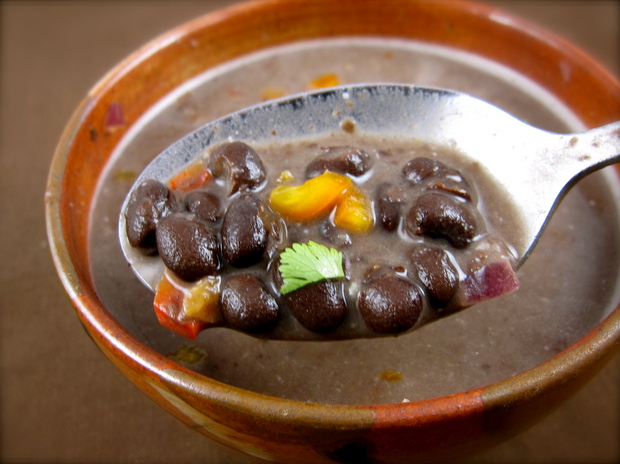 Peggy Lampman | Contributor

Brrr ... it's close to the middle of May but the chill factor says otherwise. A reader commented on a black bean soup recipe that was quick and easy to make. I'm behind the 8-ball today so home-cooked, yet simple to make, is a necessity. I can't locate his recipe but I think this may be close enough!
Sautéed carrots and celery would be good in the soup, likewise a grating of cheddar cheese before serving. Note the last four ingredients are optional; if you don't have them on hand, the soup is good, just the same.
After my crazy day, I cracked a beer to enjoy while cooking the soup. Though I didn't add beer to the ingredient list, I stirred a tablespoon into the soup and it was pretty good!
This soup lacks the thick meaty texture and flavor of soaked and long-simmered dried black beans. But it has everything else I'm craving today: warmth, nutrition and great flavor. Whole-grain tortilla chips or cornbread are an appreciated side.
Yield: 4-5 cups Time: 30 minutes Cost: apx. $6

Ingredients
2 tablespoons extra virgin olive oil 1 tablespoon minced garlic 1 tablespoon ground cumin 1/2-2 teaspoons red pepper flakes 2 (14 1/2 ounce) cans black beans, one can drained of liquid 1 cup chicken, vegetable or beef stock 3 tablespoons chopped assorted colored bell pepper, diced, optional 3 tablespoons chopped cilantro, optional 2 tablespoons chopped red onion, optional 1/4 cup sour cream or strained yogurt, (2 percent or fat-free is fine), optional

Directions
1. In a medium-sized pot, heat olive oil over medium-low heat. Add garlic, cumin and 1/2 teaspoon red pepper flakes. Sauté 1 minute or until garlic is fragrant. 2. 
Add 1 can of black beans with liquid and 1 cup stock to pot. Bring to a low boil then remove from heat. 3. 
With a food processor or immersion blender, purée the soup. 4. 
Stir in the second can of drained beans, peppers, cilantro, onion and sour cream or yogurt into the puréed ingredients and gently heat. Season to taste with kosher salt and additional red pepper flakes to taste.


Looking for a specific recipe? Click here for dinnerFeed's recipe search engine; type the recipe or ingredient into the search box!