food & drink:

Peggy Lampman's Thursday dinnerFeed: Grilled fish tacos

Posted on Thu, Apr 8, 2010 : 9:16 a.m.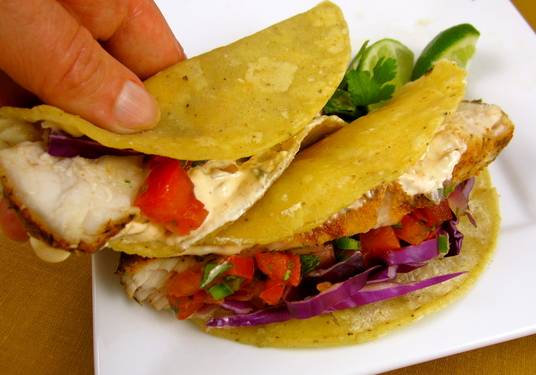 Peggy Lampman | Contributor

Many schools in Ann Arbor are closed this week for Spring Break. Some folks have seized the opportunity to pack their bags, heading for some exotic destination, leaving the rest of us behind.
Others may find themselves on another sort of journey; a personal journey, perhaps, to unearth treasures buried deep within their soul. Nirvana is reached for some through religious pursuits or meditation; for others, enlightenment is sought through poetry, art or a good book.
Me? One of my quests is to eat the perfect fish taco.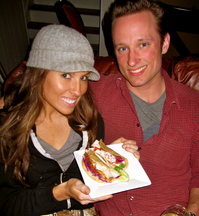 I'm not alone. The Web site
TheBestFishTaco.com
"...is simply about life's journey to find and enjoy the best fish taco."
According to this Web site, when it comes to fish tacos, there are three personalities.
The "Cravers" are those who know a good fish taco can, "...solve your problems, bring calm to chaos and put your soul in a happy place."
The "Unaware" are those "...who cringe at the idea of a fish taco, but have never tried one." According to this Web site, they are living their life asleep.
Finally there are the "Adversed" - the folks who just don't like fish tacos.
I am definitely in "The Craver" category. I seek fish tacos wherever I roam. I've eaten them in the Bahamas, Caribbean, Mexico, California and American South. But hands down, some of the best fish tacos I've ever tasted are made in Ann Arbor. Relishing fish tacos from the Black Pearl on Main Street (available each evening after 5 p.m.), and Baha-styled Fish Tacos (available every Monday, from 11 a.m.-3 p.m.) at Monahan's Seafood in Kerrytown are, to me, wonderful eating experiences.
My recipe below is a hodge-podge of personal flavor preferences that make an amazing fish taco. Feel free to dress-up or down the recipe, according to your palate.

I purchased beautiful thick Mahi-Mahi fillets from Monahan's, and Adobo Seasoning blend from The Spice Merchants, both shops located in Kerrytown. I used the Soft CornTortillas sold at Meijer's, which were delicious in this recipe. You may also fry, microwave or grill the tortillas.

Whether your fish taco destination be some remote, sun-splattered locale, downtown Ann Arbor or your own back-yard grill, join me and other fish taco "Cravers" in this transcendental eating experience!
Grilled Fish Tacos
Yield: 12 fish tacos (6 servings)
Cost: $25-$40 (depending on price of fish)
Time to allow fish to absorb flavors from seasoning rub: 1-3 hours
Active Time: 45 minutes
Ingredients
2 1/2 pounds mahi-mahi or grouper fillets, 1-1 1/2-inch thick
2-3 tablespoons adobo, taco or other Southwest seasoning blend*
12 (6-inch) white corn tortillas
1 cup Chipotle Cream Sauce (recipe below)
1-2 cups Salsa Fresca (recipe below)
2-3 cups shredded purple cabbage (1/2 small cabbage)
Lime wedges
*Check ingredients of seasoning blend. Add kosher salt to taste if the ingredients do not include salt.
Directions
1. Rub fish fillets with seasoning blend. Cover and refrigerate 1-3 hours.
2. Make Chipotle Cream Sauce and Pico de Gallo (recipes below). Reserve.
3. Preheat oven to 200 degrees. Preheat gas or charcoal grill to medium heat. Oil grill grate and grill fish 7-10 minutes on each side, or until fish flakes easily with a fork. Let fish rest 5 minutes then slice into strips.
4. While fish is grilling, wrap tortillas in foil and warm in oven for 10-15 minutes or until heated through.
5. To assemble tacos, spoon Chipotle Cream Sauce in the center of each heated tortilla. Divide fish and place in Chipotle Cream Sauce. Top with Salsa Fresca and shredded cabbage. Fold in half and serve.

Chipotle Cream Sauce (Yield: apx. 1 1/4 cup)
1 cup sour cream
2 tablespoons mayonnaise
2 teaspoons chipotle purée*
2 tablespoons lime juice
1 teaspoon minced garlic
*Purée whole, canned chipotle peppers, available at most local groceries, with accompanying adobo sauce in a food processor. I freeze the leftover purée..
Combine above ingredients and add kosher salt to taste.
Salsa Fresca (yield: approx. 2 cups)
3 large red, ripe tomatoes, seeded and cut to 1/4-inch dice
1 small red onion, cut into 1/4-inch dice
1-2 tablespoons serrano or jalapeno pepper, finely chopped
1 tablespoon lime juice
2-3 tablespoons chopped cilantro
Combine above ingredients and add kosher salt to taste.

Visit me on dinnerFeed for more more seasonal recipes and local value (recipe search engine on site.) Mini-recipes daily fed to you on my dinnerFeed Twitters.