Peggy Lampman's Thursday dinnerFeed: Curried Striped Bass with Tomatoes and Peppers
Posted on Thu, Mar 24, 2011 : 4:17 a.m.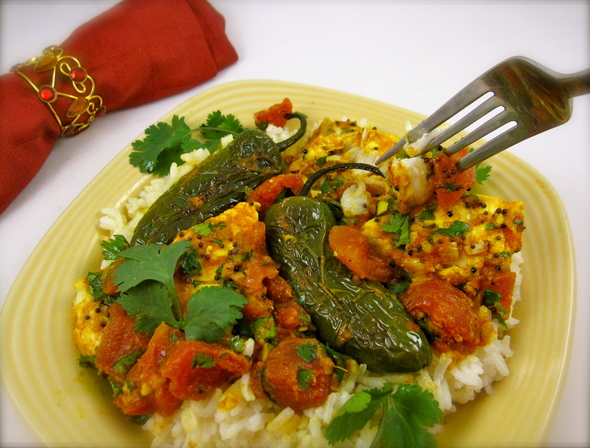 Peggy Lampman | Contributor

"Freakishly good," said my son, devouring his plate of food. "This dish is killing it... it's doing it's thing."

(Translation: "This is a marvelous curry. The sultry heat and masala spices are uniquely satisfying...I'm quite pleased with the unctuous flavor profile." )

Sid Sharma and I have been comparing notes for various Indian recipes since the inception of Ann Arbor.com. I adore Indian food but am often overwhelmed by the long list of ingredients and the time commitment involved in replicating authentic Indian cuisine.

Last month Sid sent me a recipe for a fish curry, written by Chef Anjum Anand, who is Punjani-British. Sid discovered her show, "Indian Cooking Made Easy" on Dish Network and tells me he appreciates her approach to cooking.

"She's aware about the necessity of eating healthy, and has adapted her methods, so one ends up with very tasty dishes."

Sid told me this recipe is a simplified version of similar dishes he's eaten in New Delhi and Calcutta. He also remembers his mother making curried fish when he was a child. Sid used cod in the following recipe and told me it turned out delicious.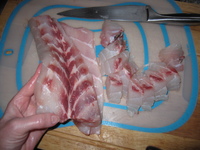 I discussed the recipe with Mike Monahan, of Monahan's Seafood, asking his opinion as to other firm-fleshed fish that would stand up to the flavors of an Indian curry. He agreed with Sid that cod would, indeed, work well.
Then he pulled another fish from the case, and cradled it in his palms, lightly stroking the striations with an affection generally reserved for a newborn child.
"You could also consider using wild sea bass. It's meatier than most white fish and has a great texture and buttery flavor." He advised me to check out his most recent fish blog, and so I did.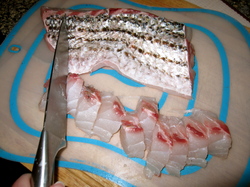 Peggy Lampman | Contributor
He writes: "The royal, regal and mighty striped bass has an important history in our country that goes back to colonial times...We are so lucky to still be able to enjoy this most incredible fish. They have everything going for them! Good looks — big and handsome in the well-proportioned classic kind of way."
Whew! Is this wild bass single? It sounds like an ad clipped from the Personal Pages. All that's missing is one condition: ...no strings attached. (Ouch! You must have seen that one coming.)
The following recipe was adapted from Anjum Anand's recipe for Creamy Tomato Fish Curry. I substituted canned tomatoes for fresh and didn't purée the tomatoes with the ginger and garlic. I decreased the oil, added butter and omitted water as the liquid in the canned tomatoes was adequate.
Chef Anand's suggestion to make the dish leaving the blistered peppers whole was a revelation, solving the conundrum of adapting a recipe's heat index to satisfy a variety of palates. Most of the heat is cocooned within the pepper, allowing the diner to chop the peppers into the dish, or not, as desired.
Killingly good with basmati rice and naan (Indian flat bread).
Yield: 4 servings
Time: 45 minutes
Ingredients
2 tablespoons vegetable oil
1 teaspoon mustard seeds
1/2 cup white or yellow onion, finely chopped
3-5 hot green chillies, left whole or cut in half, lengthwise, seeds and membranes removed*
1 (28-ounce) can diced tomatoes with juices
1 tablespoon plus a teaspoon fresh grated ginger
1 tablespoon minced garlic
2 teaspoons unsalted butter or ghee, optional
½ teaspoon turmeric
¾ teaspoon cumin powder
1 teaspoon coriander powder
½ teaspoon garam masala
1½-2 teaspoons white wine vinegar, optional
2-3 tablespoons heavy cream, optional
1 1/2 pounds firm fleshed fish, cut into 1 1/2-inch cubes
1/4 cup chopped fresh cilantro leaves, plus extra sprigs for garnish, if desired
*Cutting the peppers will increase the heat permeating the entire dish; leaving them whole allows individuals to monitor the heat level to preferred heat tolerance.
Directions
1. Heat the oil over medium-high heat in a large sauté pan. Add the mustard seeds and once they have popped, add the onions and green chillies. Cook, stirring often, until the onions are golden brown and peppers are blistered on each side, 5-8 minutes.
2. Add tomatoes, ginger, garlic, spices and butter, if using.
3. Reduce heat to medium and cook 10-12 minutes or until just beginning to thicken. Add the vinegar and cream, if using; bring to a boil and reduce to a simmer until it is creamy, 3-4 minutes; if sauce is too thick, add a tablespoon or so water. Taste and adjust seasoning. Add the fish and simmer gently for 3-4 minutes or until just cooked through. Add kosher salt and freshly ground black pepper to taste.
4. Stir in cilantro and serve immediately, garnished with fresh cilantro sprigs, if using.

Looking for a specific recipe? Click here for dinnerFeed's recipe search engine; type the recipe or ingredient into the search box. I am a real-time food writer and photographer posting daily feeds on my website and in the Food & Drink section of Annarbor.com. You may also e-mail me at peggy@dinnerfeed.com.