Peggy Lampman's Thursday dinnerFeed: Grilled salmon with arugula, edamame and orange salad
Posted on Thu, May 6, 2010 : 4:09 a.m.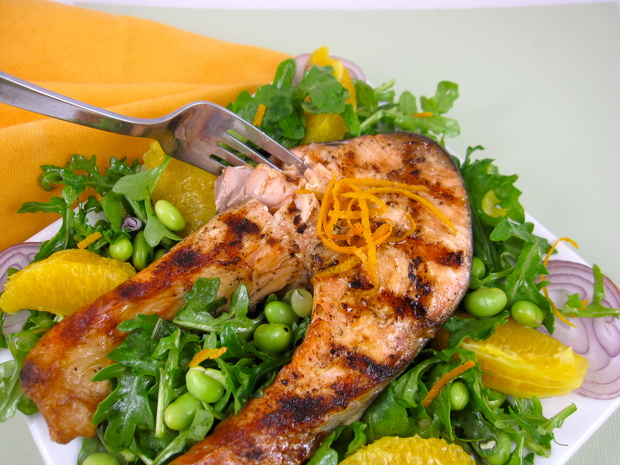 Peggy Lampman | Contributor

I'm not buying into the theory that Mother's Day is a "Hallmark holiday," commercialized beyond recognition, so it can be ignored in good conscious. Mother's Day, according to Wikipedia, "...is an annual holiday that recognizes mothers, motherhood and maternal bonds in general, as well the positive contributions that they make to society."

In the United States, history presents us with more than 140 years of hardworking, visionary and courageous women whose accomplishments put this holiday on the map.

Remember Julia Ward Howe from sixth-grade U.S. history? This woman, a poet, pacifist and suffragette, managed to find time to write the lyrics to "The Battle Hymn of the Republic." Howe also wrote the "Mother's Day Proclamation in 1870", encouraging mothers to rally together for peace.

This Mother's Day concept was re-ignited in 1877, in a small-town way. One May Sunday, in a small church in Albion, the Rev. Myron Daughterty was so distraught over the incarceration of his son in a saloon by an anti-temperance group, he couldn't finish his sermon.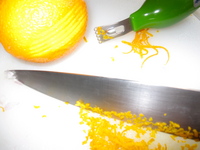 Juliet Calhoun Blakely, according to albionmich.com/history, took the pulpit and completed the sermon for him. Her sons and church congregation were so proud of her that on the second Sunday of every year, the church honored her and all "mothers" by celebrating "Mother's Day." But it certainly was not a national holiday. Not quite.
Ann Reeves Jarvis fostered the organization of a "Mother's Work Day", which,
according to wikipedia.com, "...emphasized the causes of pacifism and social activism," after the Civil War.
According to womens history about.com, "Ms. Jarvis' daughter, Anna Jarvis, lobbied prominent businessment and politicians to turn the day into a special day honoring mother's. Anna's hard work paid off when Woodrow Wilson signed a bill recognizing Mother's Day as a national holiday."
These women are certainly super-women. It takes a healthy woman to positively impact society, so I'm proposing a nutritious, delicious Mother's Day recipe composed of healthy ingredients, many of them found on women.webmd.com. The site refers to them as "super foods," and they are particularly nutrient-rich for women.
Like a woman, the dressing multi-tasks, providing the marinade for the fish and the dressing for the salad.
I'm perfectly fine if my family doesn't spend money on cards, gifts and flowers for me, especially in these lean economic times. However, I'd really appreciate a hug, foot rub and-- if you don't feel like cooking--peel me a grape!
Yield: 4 main course salads (1/2 cup vinaigrette)
Dressing's Maceration and rest time (optional): 60 minutes
Marinate time: 45 minutes
Active time: 25 minutes
Ingredients
1 large shallot; 1 1/2 teaspoons minced, remaining shallot thinly sliced
3 teaspoons white wine vinegar
1/3 cup walnut oil
2 teaspoons finely chopped orange zest, plus 1 tablespoon long strands for garnish
2 teaspoons honey or agave syrup (optional)
4 salmon steaks or 2 pounds salmon fillet
1 cup frozen shelled edamame
6 cups arugula or red leaf lettuce, washed and spun dry
2 navel oranges, peeled and sectioned (zest used above)
Directions
1. If time allows, soak minced shallots in vinegar for 30 minutes, and reserve remaining sliced shallot. (This optional soaking procedure is known as "macerating" and allows the shallot to soften, permeate and absorb the flavor of the vinegar.)
2. Whisk together shallot, vinegar, oil, 2 teaspoons of the finely chopped orange zest and honey or agave, if using. Season to taste with kosher salt and freshly ground pepper. If time allows, let dressing stand an additional 30 minutes for flavors to combine.
3. Divide dressing. Lightly season fish with kosher salt and freshly ground pepper and, in a ziplock bag or shallow dish, marinate salmon in half of the dressing 45 minutes, turning salmon after 25 minutes.
4. While salmon is marinating, bring a large pot of salted water to a boil. Cook edamame according to package instructions, or until just tender. Drain and rinse under cold water. Set aside.
5. Prepare a gas or charcoal grill to medium heat. Oil grill grates and grill salmon until cooked to desired level of doneness, about 4 minutes on each side. For best flavor, salmon should be pink at the center. (Remember that fish will continue to cook slightly after it is removed from the grill.)
6. While salmon is grilling, toss arugula or leaf lettuce, cooked edamame, orange sections and sliced shallot with remaining dressing. Serve salmon, garnished with orange zest, and surrounded by salad.

Looking for a specific recipe? Click here for dinnerFeed's recipe search engine; type the recipe or ingredient into the search box!