Peggy Lampman's Monday dinnerFeed: Southwest Chicken and Corn Soup with Loaded Nacho Topping
Posted on Mon, Jan 3, 2011 : 9:42 a.m.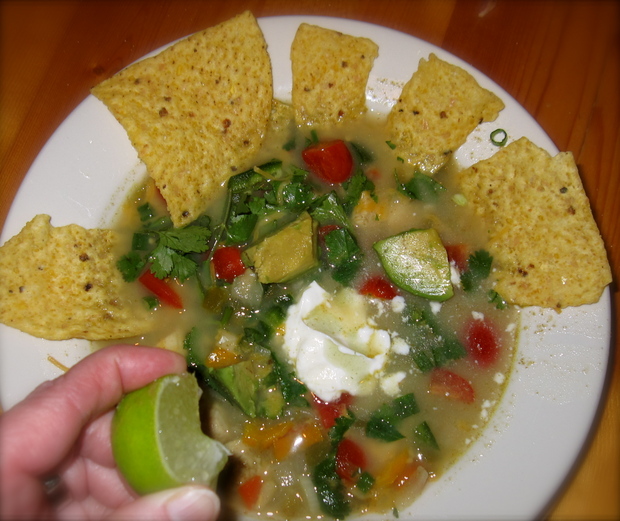 Peggy Lampman | Contributor

My sister-in-law is giving me another night off from the kitchen. She's made this for me before, and it's a great soup recipe for the files.

It's her "go-to" winter soup recipe that she often uses when casually entertaining. I gravitate to spicy foods in the winter, so I loaded up on the hot peppers she served on the side.
YIeld : 4-5 (main course) servings
Chicken and Corn Soup Ingredients
1 tablespoon canola or vegetable oil
1/2 white onion, chopped (1-2 cups)
1 tablespoon minced garlic
3-4 tablespoons ground cumin
7 cups chicken stock
1 1/2 pounds raw chicken, cut into 1/2-inch pieces*
2 cups fresh or frozen corn
2 (4 1/2 ounce) cans chopped green chilis, drained
*Chicken tenders, chicken breasts or chicken thighs, skinless and boneless
Loaded Nacho Soup Topping Ingredients
Sour cream
Chopped green onions
Chopped hot and/or sweet peppers
Shredded cheese such as cheddar or pepper jack
Diced avocado
Fresh lime wedges
Corn chips
Directions
1. In a medium-sized, heavy-bottomed pot or Dutch oven, heat oil. Sauté onions until just softened and fragrant, about 7-9 minutes. Stir in garlic and cumin and continue cooking 2 minutes, occasionally stirring.
2. Add stock, chicken, corn and chilis. Bring to a boil, then reduce heat to simmer. Simmer soup until chicken and corn are cooked. Season to taste with kosher salt.
3. Serve with desired toppings.