Peggy Lampman's Thursday dinnerFeed: Blue Cheese-Cherry Chicken Salad in Endive Spears
Posted on Thu, Jul 22, 2010 : 4:48 a.m.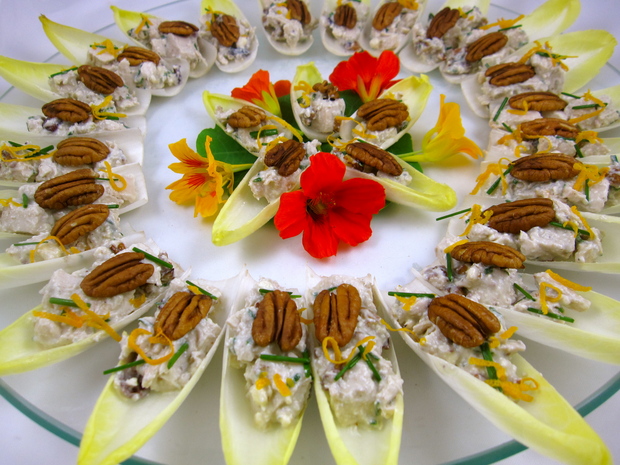 Peggy Lampman | Contributor

It's wise not to underestimate chicken salad. Sure, it's standard deli case fare, ingredients often minced, dressed in cloyingly sweet mayonnaise, then mounded into a slick plastic bowl. But chicken salad can be beautifully delicious, and has come to my rescue on many an occasion.

Chicken salad understands me. It appreciates my gustatory needs, and through the years I've placed many demands on my relationship with this salad. I'm willing to go that extra mile for my chicken salad, and I expect it to do the same for me.

I've dressed chicken salad to the nines, with exotic Asian vinaigrettes and vegetables; I've decked out chicken salad for the fall, accentuating poached chicken with a maple dressing bejeweled in apples and walnuts. Chicken salad also knows how to dress down. It feels right at home on a hot summer day, simply made with mayonnaise and chopped celery, then served in a tomato shell.

I've promised to bring a dish for a wedding shower and, once again, chicken salad is coming to my rescue. This particular recipe understands I need a main dish, yet knows it must also work overtime as a finger food. It is aware that it must look festive and elegant for this special occasion, yet deliciously irresistible to a hungry group of merry-makers.

When preparing chicken salad recipes, chicken options are many. My favorite way is to poach raw chicken, chill, then chop or slice the meat according to my needs. Grilled chicken is also delicious in salads. Pinched for time? Purchase a rotisserie chicken, remove the skin and carcass, and chop the remaining meat. I've also seen cooked chicken, ready-to-go, in deli cases across town.

Like a little black dress, chicken salad can be dressed up or down, according to the occasion. I will always be loyal to chicken salad, preparing and serving the salad to its best advantage. I know, in turn, chicken salad will always be there for me.

Yield: 4 cups chicken salad; enough salad to stuff apx. 40 endive leaves Time to poach and chill chicken: 3 hours Active Time: 1 hour (most time spent stuffing leaves and arranging platter)

Ingredients

1 bay leaf 1 tablespoon dried herbs, such as basil, oregano, thyme or rosemary 6 black peppercorns 1 1/2 pounds uncooked, boneless, skinless chicken breast halves 1/2 cup mayonnaise 2 tablespoons walnut oil 2 tablespoons snipped chives, divided Chopped orange zest and juice from 1 orange 8 ounces crumbled blue cheese* 1 ounce dried cherries, chopped* 3-4 heads endive (about 40-45 of the large outer leaves, washed and spun-dry) 40 whole pecans, toasted Nasturtium blossoms, optional garnish

*Trader Joe's stocks an 8-ounce container of blue cheese with dried cherries that may be used.

Directions

1. Bring a pot of salted water, seasoned with bay leaf, herbs and peppercorns, to a rolling boil. Let water boil at least 15 minutes to season the water. (There should be enough water remaining in the pot to cover the chicken by 1-2 inches, but not too much water to dilute the seasoning.) 2. Carefully place chicken in boiling water, stir, and when water begins to briskly simmer, turn off heat. Cover pot and let chicken sit in seasoned water 25-35 minutes or until chicken is totally cooked. Refrigerate and chill. (Chicken may be poached and chilled up to 24 hours in advance.) Cut chicken into 1/2-inch pieces. 3. Make a dressing by whisking together mayonnaise, walnut oil, 1 tablespoon chives, and orange juice, reserving zest for garnish. Combine diced chicken, crumbled blue cheese and cherries and thoroughly combine with dressing. Season to taste with kosher salt and freshly ground pepper. (Chicken salad may be made up to 24 hours in advance of spooning into endive leaves.) 4. Spoon chicken salad into endive leaves and garnish each with a toasted walnut, orange zest and remaining chives. Arrange on a platter garnished with nasturtium blossoms, if using. (May be made up to 3 hours in advance to serving.)

Looking for a specific recipe? Click here for dinnerFeed's recipe search engine; type the recipe or ingredient into the search box!