Peggy Lampman's Thursday dinnerFeed
recipe:

September's Last Stand Vegetable Basket (plus maple-balsamic grilled chicken on the side)

Posted on Thu, Sep 29, 2011 : 10:12 a.m.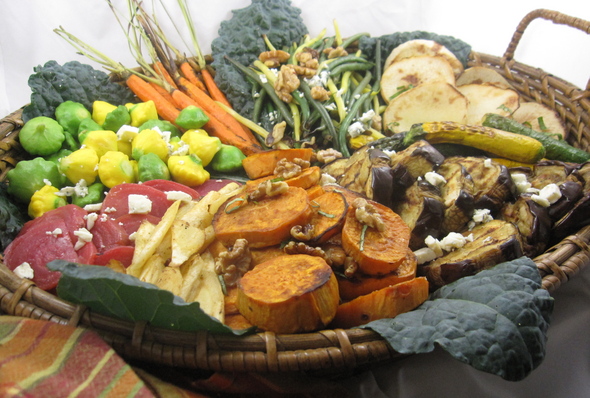 Peggy Lampman | Contributor

Peggy Lampman's Thursday dinnerFeed
In late September, produce stands heave under the weight of the season's largess. While one hand clutches a bunch of beets, the other grasps a bag of green beans, carrots and eggplant — and the lure of the September siren entices you to keep spending.
With remorse, you cut yourself off, nodding at the beauties left behind — how on earth will you consume the mother lode of vegetables you've already purchased? You could consider inviting your friends over for an autumn harvest supper.
I was in a quandary over what to prepare for a casual get-together; I'd invited friends over for happy hour. We're a laid back group of women that often meet for the witching hour and have been rotating venues and homes for years. A stroll through the farmers market provided the solution; a bit of everything from most vendors' tables, with a minimum of intervention on my part.
After all, in a few short weeks, the table pickings won't be so effusive. I wanted a lean protein, as well, and a grilled chicken platter seemed a reasonable accompaniment. I wanted to enjoy my guests, and not be running around — wailing like a banshee — when they arrived.
Preparing all of these vegetables, with their different cooking techniques, and the chicken is not complicated. But it does require a good bit of organization, pan juggling and advance prep work. I kept the seasoning simple and saved time by making one vinaigrette, which worked overtime as a marinade and salad dressing.
Peggy Lampman | Contributor
Make-aheads: The vegetables can be grilled, roasted and blanched several hours before your guests arrive. The technique selected depends on the vegetable.
Roasting enhances the natural sweetness of the root vegetables of fall; a quick blanch in salted water brings out the subtleties of summer vegetables. Grilling works for both summer and fall vegetables. I prepared most the vegetables several hours prior to serving, except for the beets. I roasted, peeled and sliced them a day in advance, tossed them with their flavorful cooking oil, and refrigerated them.
The Balsamic vinaigrette, with the omission of the shallot, may be made up to 48 hours in advance. The flavor of the shallot becomes too intense if left to steep that long, so I whisked in the shallot an hour before using.
The chicken may be made ahead as well. After marinating the breasts for 4 hours, I grilled them to 140 degrees (a bit underdone) one day in advance. I placed the whole chicken pieces, with their juices, in foil and refrigerated them.
A couple of hours before my guests arrived, I sliced the chicken into thin strips, wrapped them in the same foil along with those savory juices. An hour before they arrived, I reheated them in a 250 degree oven until they were just cooked through. The meat was tender and delicious. I served both platters at room temperature.
The vegetables I purchased are a suggestion and could be varied according to what is seasonal. I imagine grilled or roasted butternut and acorn squash, and roasted garlic cloves and brussels sprouts, for instance, would be a fine addition to the platter. Or you could serve a platter of just one vegetable that caught your eye — that would simplify operations. The choice, my friends, is yours.
I sent out an e-mail invite attempting to entice the happy Hour group with the promise of bushels of local vegetables and lean chicken. Debbie, the orchestrator of happy hours, tapped back, "I'll bring something fatty and rich, then." She made an easy munchie by spreading a divinely sweet Williams Sonoma condiment of Pecan Pumpkin Spread over cream cheese, and topped that with chopped bacon and scallions.
"Life expectancy would grow by leaps and bounds if green vegetables smelled as good as bacon," wrote Doug Larson, a Wisconsin-based newspaper columnist. I concur, and recommend a cheesy recipe incorporating bacon to complement your platters; Debbie's platter was wiped clean with baguette slices in a nanosecond.
Yield: 12 main course servings

Time to marinate chicken: 3-5 hours
Active Time: 3 hours (see above copy for advice on advance preparation)
Ingredients
1/3 cup balsamic vinegar
1/2 cup walnut or olive oil, plus extra oil for roasting vegetables
1/2 to 3/4 cup maple syrup*
1 teaspoon minced shallot
3 pounds skinless and boneless chicken breast halves
1 1/2 tablespoons finely chopped fresh rosemary
1 bunch beets, washed; greens removed and saved for another use
2 large sweet potatoes, peeled and cut into 1/2-inch thick rounds
2 large turnips, peeled and cut into 1/2-inch thick rounds
1 bunch parsnips, peeled and cut into 1/2-inch diagonal slices
1 large eggplant, half of the black skin removed with a vegetable peeler and cut into 3/4-inch rounds
1 bunch small carrots, bushy greens removed then peeled
12 small zucchini and/or yellow squash, washed and left whole
3 cups baby pattypan squash, stem ends trimmed
6 cups green and yellow beans, stem ends trimmed and washed
4 cups mixed baby greens, washed and spun dry
Kale leaves, washed and spun dry; optional
1 cup crumbled gorgonzola or other blue cheese
1 cup toasted walnuts
*Maple syrups vary in flavor and level of sweetness. I used a Michigan maple syrup (purchased at Sparrow Produce in Kerrytown), which has a rich sweet flavor and smooth mouth-feel.
Directions
1. Make a vinaigrette by whisking together the vinegar, walnut oil, syrup and shallot. Season to taste with kosher salt and freshly ground pepper.
2. Place chicken breast halves in a resealable plastic bag set in a shallow dish. Pour 1/2 cup of the marinade over the chicken, reserving the rest. Seal bag and turn to coat chicken. Let marinate, refrigerated, 3-5 hours, turning bag occasionally.
3. To roast vegetables, preheat oven to 400 degrees. Wrap beets, drizzled in olive oil, in aluminum foil. Roast on center rack of oven 45-75 minutes, or until easily pricked with a fork. When cool enough to handle, peel off skin and cut into 1/2-inch slices. Reserve.
4. Line two cooking sheet pans with oiled foil. On each pan arrange sweet potatoes, turnips and parnips in a single layer, not mixing the vegetables as they have different roasting times. Brush with oil and lightly season with kosher salt. Roast on middle rack of oven until vegetables are lightly browned in spots and just tender, turning once. Note that some vegetables may cook faster than others. Reserve.
5. Prepare a gas or charcoal grill to medium-high heat. Lightly brush eggplant flesh, carrots and baby zucchini with maple dressing and grill several minutes on each side or until vegetables are just tender but not charred; baste occasionally. Remove and lightly sprinkle with kosher salt; reserve.
6. Drain chicken and pat dry. Lightly season both sides with kosher salt, freshly ground pepper and rosemary. Grill for 12 to 15 minutes or until chicken is no longer pink (155Ëš), turning once.
7. Bring two pots of salted water to a boil*. Fill a large, wide bowl with ice water. To blanch vegetables until crisp-tender, boil pattypans 30 to 90 seconds, depending on their size. Boil green beans 30-60 seconds. (You may want to cook a few vegetables in advance to approximate cooking time.) Drain the vegetables, then plunge them into ice water. When cold, remove and pat dry.
8. When chicken is cool enough to handle, cut diagonally into thin slices. Toss greens with reserved maple dressing to taste; arrange greens on a large platter. Arrange chicken on top of greens. Arrange vegetables in a large basket or platter, lined with kale if using. Sprinkle platters with gorgonzola and walnuts and serve with remaining balsamic-maple dressing on the side.
*If green beans and squash are small enough and freshly harvested, you may prefer to eat them uncooked.
My new web site (packed with holiday recipes) is coming soon! But in the meantime, If you're looking for a specific recipe, click here for dinnerFeed's recipe search engine; type the recipe or ingredient into the search box. I am a real-time food writer and photographer posting daily feeds on my website and in the Food & Drink section of Annarbor.com. You may also e-mail me at peggy@dinnerfeed.com.