Food & Grocery:

PBS celebrates Julia Child's 100th birthday with a fun remix video

Posted on Wed, Aug 15, 2012 : 4:37 p.m.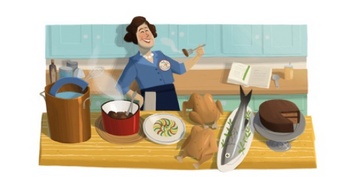 Food lovers across the world are celebrating the 100th anniversary of one of the most influential food personalities of all time. Julia Child was born on this day in 1912, and during her 91 years on the planet she had a tremendous impact on the way Americans approach home cooking.
Tributes have been popping up across the web. Google has a "Google doodle" celebrating Julia Child on its home search page, the U.S. National Archive has posted pages from Child's 1943 resume on its Facebook page, and our own Mary Bilyeu has paid homage with a take on Child's chocolate mousse.

Not surprisingly, we're all fans of Julia Child here at AnnArbor.com Food & Grocery central. Check out this link to find takes on some classic Julia Child recipes we've shared over the past three years.
PBS had a long-standing relationship with Julia Child dating back to her first episodes of "The French Chef" on WBGH in 1963. PBS has shared a fun remix of some highlights from her programs throughout the years.