food & drink:

Mom's mushroom soup is the best birthday present

Posted on Wed, Oct 20, 2010 : 7 a.m.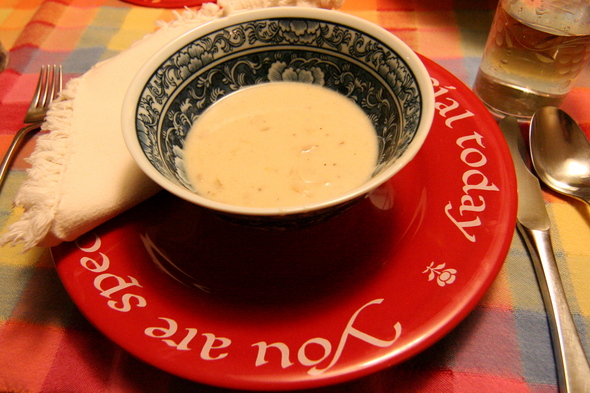 Jessica Webster | Contributor

Every year in October, my mom and I have the same conversation. She asks me what I want her to cook me for my birthday dinner. I answer that the only thing that matters is her mushroom soup. She asks if I'm sure I still want that for my birthday. I usually answer with something along the lines of: "Duh!"




My mom's mushroom soup is ridiculous. Ridiculously good, and ridiculously indulgent. Her margin note in the recipe she shared with me says: "Not a low-calorie dish, but SO worth the calories!" That pretty much sums it up, and also explains why I eat it just once a year, and only on my birthday (you know, when the calories don't count, right?). Mom has been whipping up a batch for me every year on or around my birthday since I was a teenager.

Over the years we've tried different variations. Replacing the cream with half-and-half reduces the fat content a bit. When gluten-intolerant family is visiting, we've omitted the flour from the recipe without horrible consequences. Or at least, the consequences weren't as horrible as they were when we made the first batch where I replaced the flour with gluten-free pancake mix since I didn't have rice flour handy. I do not under any circumstances recommend that.

Mom's Sherried Cream of Mushroom Soup

Ingredients
1/4 pound of mushrooms, brushed clean and sliced
1/3 cup onion, finely chopped
1 clove garlic, minced
1/4 cup butter
1 tablespoon lemon juice
3 tablespoons flour
1 3/4 cups chicken broth
1/4 cup sherry
1/2 teaspoon salt
1/4 teaspoon pepper
2 cups light cream (Mom uses half-and-half)

Instructions:
1. Sauté mushrooms, onion and garlic in butter.

2. Stir in lemon juice and flour.

3. Gradually stir in chicken broth, sherry, salt and pepper.

4. Cook over low heat until slightly thickened, stirring constantly.

5. Stir in cream and heat, being careful not to let the soup come to a boil, as it will separate.

Serves 6. The soup is best on the day it's made.

Do you have a birthday celebration tradition or recipe? Share it below or e-mail it to JessicaWebster@AnnArbor.com.