peggy lampman's dinnerfeed
recipe:

Summer Fruit & Arugula Salad with Orange-Yogurt Dressing will cool you in the dog days of summer

Posted on Thu, Aug 9, 2012 : 4:07 a.m.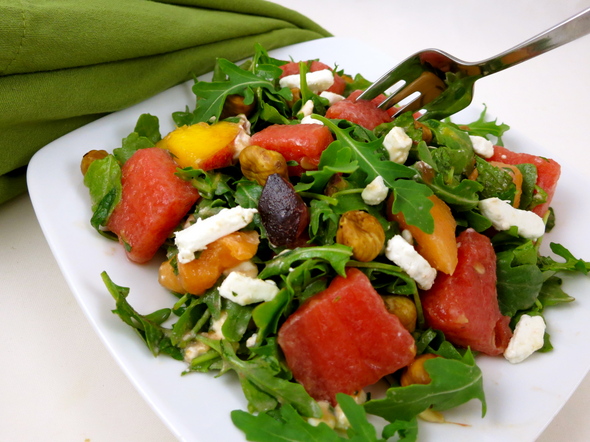 Peggy Lampman | Contributor

To receive my lastest dinnerFeed posts
by email, sign up here.
The summer of 2012 will be remembered — no doubt — for the heat and lack of rain. Soaring temperatures are fodder for late-night comedians; idle conversation in grocery lanes is peppered with jokes. "I just scorched my hand on the car door handle, then was branded by my seatbelt," a man quipped to me, as he loaded the checkout belt with ice cream and popsicles.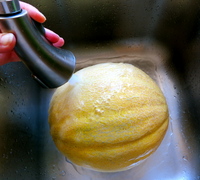 But It's no joke that in the torpor of this sticky heat, cooling salads are as an oasis in the dessert. Martha Stewart makes a watermelon and arugula salad with feta — perfect ammunition for the dog days of August. Giada de Laurentis constructs a similar salad but throws in watercress. Oprah? Tomatoes and olives are added to the signature dish. My pal Debbie tells me her mom, Avis, makes a watermelon and arugula salad but uses Parmesan instead of feta, then tosses the trio with a lemon vinaigrette.
And you thought the combination of watermelon and arugula was, perhaps, weird? These days it's like pairing burgers with fries. Last week at Paesano's on Washtenaw, I dined on a composed salad of arugula, watermelon, stone fruit, and goat cheese, topped with toasted hazelnuts and rosy chunks of lobster meat.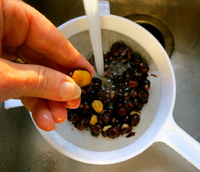 The recipe below is a knock-off of that memorable salad, with an Ina Garten minty shallot influence. Paesano's tart and creamy poppyseed dressing was a marvelous contrast to the luscious sweet fruit, and influenced my creation of the yogurt-based dressing below.
The crunch and flavor of toasted hazlenuts, reminding me of roasted chestnuts and apricots, lends the perfect textural component. The only reason I don't include them in more recipes is hazelnuts are somewhat of a pain, as they should be toasted and husked before eating. Up until now, after toasting, I've bundled them in kitchen towels, then rubbed them together to remove the skin.
This technique does the trick, but the blackened skins make for messy dish towels and counter tops. This go-around I tried a technique I'd read about in a Baking Addiction blog.
Bring 3 cups of water and 4 tablespoon of baking soda to a boil, then stir in 1 cup of nuts. (The water will foam up after adding the nuts, so you should use a large pot to prevent spill-overs.) Boil them 3 to 4 minutes. Rinse the nuts under cold running water, as you remove the skins with your fingers. Let them dry a bit, then toast in a preheated 350 degree oven for 15-20 minutes, or until crunchy.
This technique avoided the messy towels but left a dirty pot behind. Use whatever trick you prefer, bearing in mind a bit of skin left on a nut is no big deal.
The vinaigrette also incorporates technique, but if your clock's a-tickin', it's not essential to the success of the salad. I recommend, as with most vinaigrettes, allowing the finely chopped shallot to steep in the vinegar (macerate) at least 30 minutes. This allows the shallot to break down, and infuses the vinegar with its essence; the vinegar also loses some of its bitterness.
As I write these words, produce sections are packed with seasonal stone fruits and melons that are at their peak of flavor. Any of these ripened fruits would be marvelous in this salad. And if you haven't tried a Michigan honeyrock, you're in for a treat. Peruse the ingredient list below. It's such a delicious salad, you forget how healthy it is.
The piece de resistance in the following recipe would be the addition of lobster claw meat, as I enjoyed at Paesano's. But after husking hazelnuts, I was in no mood to steam them and then pry the meat from their armor. The salad is priced on Paesano's summer luncheon meal for $13.95, which is a steal considering the labor involved and cost of the ingredients.
Yield: 6 servings
Time to prepare and roast hazelnuts: 30 minutes
Time: 40 minutes
Ingredients for Salad
6 cups arugula
1 cup mint, cut into julienned pieces
6 cups chopped assorted stone fruit and melon*
3 1/2 ounces crumbled goat cheese
1 cup toasted hazelnuts (see above tips for preparing hazlenuts)
Creamy orange dressing (recipe follows)
*I used Michigan Honeyrock melon, watermelon, plums and nectarines.
Toss arugula, mint, fruit and melon, goat cheese and hazelnuts together. Add dressing to taste and serve.
Ingredients for Dressing
1 teaspoon minced shallot
2 teaspoons apple cider vinegar
1/4 cup freshly squeezed orange juice
1 teaspoon finely chopped orange zest
1/3 cup plain yogurt
1 teaspoon - 1 tablespoon honey
1 tablespoon olive oil
Directions for Dressing
if time allows, place shallot in vinegar and, let macerate (steep) at least 30 minutes, preferably longer. Whisk together shallot, vinegar, orange juice and zest, yogurt, 1 teaspoon of honey and olive oil. Season to taste with additional honey, kosher salt and freshly ground pepper.