Posted on
Wed, Aug 7, 2013 : 8 a.m.
Maple oatmeal pie is sophisticated comfort food
By Mary Bilyeu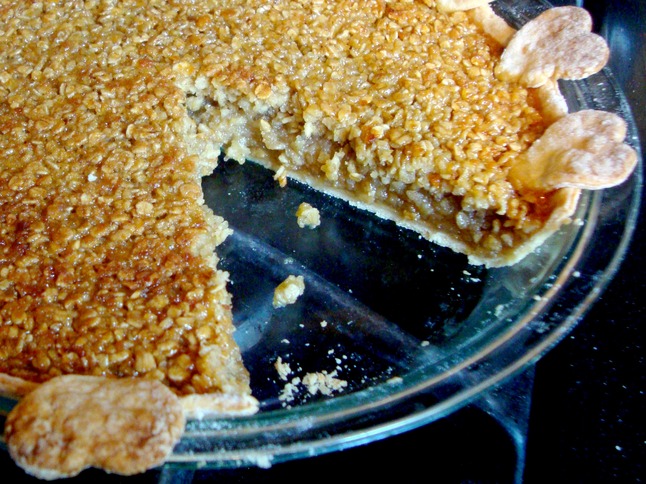 Mary Bilyeu | Contributor
My friend Kate lives in Massachusetts, but she visits Michigan every summer; her family vacations in South Haven each July. Because her sister lives in Ann Arbor, Kate always spends a few days here before heading west. We meet for dinner when she's in town.
Despite my negligence in leaving a present for Kate at home, she very thoughtfully brought me a bag of goodies from back east — some of the best items her state has to offer, she told me. This included a bottle of maple syrup from Sweet Brook Farm, a family-owned home to maple trees and alpacas. To tweak my forgetful conscience even further, Kate had remembered my affection for the darker, more intense Grade B rather than the clearer, standard Grade A.
I couldn't just wantonly pour this beautiful syrup over pancakes, but rather needed to use the gift judiciously and sparingly. So I added a touch to an Amish oatmeal pie, enhancing the sweetness without it becoming cloying. The maple flavor shines through, making this at once a dessert that is both classic comfort food but also unique and sophisticated.
Maple Oatmeal Pie
1 9-inch pie crust
4 eggs
1/2 cup sugar
2 tablespoons flour
pinch of cinnamon
1/2 teaspoon kosher salt
1/4 cup pure maple syrup
3/4 cup light corn syrup
2 tablespoons butter, melted
1 cup quick-cook oats
Preheat oven to 350 degrees. Place pie crust into a glass pie tin.
In a large bowl, whisk together eggs, sugar, flour, cinnamon, and salt. Whisk together maple syrup, corn syrup, and butter; stir into egg mixture. Stir in oats, then pour mixture into prepared pie crust. Trim edges of crust to meet edge of pie tin, if need be.
Bake for 45 minutes until golden and puffed; filling will sink as it cools.
Makes 8 servings.

Mary Bilyeu - a self-proclaimed Food Floozie (named for her blog, which is taking a summer vacation) - writes for AnnArbor.com on Tuesdays, Wednesdays, and Fridays, telling about her adventures in the kitchen. She is also on a mission to find great deals for her Frugal Floozie Friday posts, seeking fabulous food at restaurants on the limited budget of only $5 per person. Feel free to email her with questions, comments, or suggestions: yentamary@gmail.com.

The phrase "You Should Only Be Happy" (written in Hebrew on the stone pictured in this post) comes from Deuteronomy 16:15 and is a wish for all her readers - when you come to visit here, may you always be happy.