Recipe:

Make the most of corn season with corn chowder and jalapeno-cilantro puree

Posted on Thu, Aug 9, 2012 : 9:20 a.m.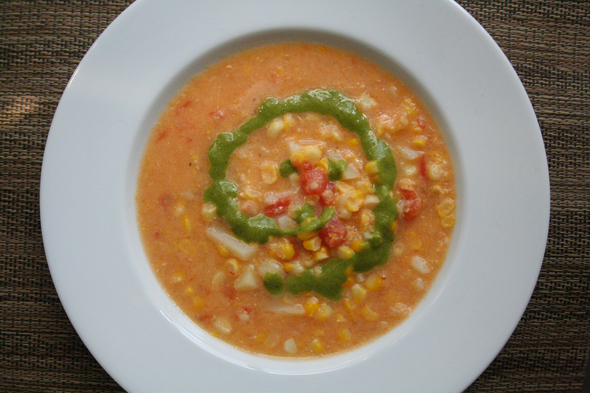 Jessica Webster | AnnArbor.com
The heat has let up a little and we've had some rain, which is great news for Michigan's corn crop. So far I've been happy to find a good selection of Michigan sweet corn in local grocery stores, and as beautiful tomatoes have hit the shelves, I've been on the hunt for a recipe that makes good use of both of these summer gifts.
Corn chowder was at the top of my list, but it took some work to find a recipe that wasn't too heavy. Many chowders are laden with bacon, cheese and heavy cream, but when produce is so fresh, the goal should always be to showcase those flavors and not bury them under layers of meat and dairy.
When I want simple recipes, I often turn to the Minimalist — New York Times columnist and cook book author Mark Bittman. His corn chowder recipe was simple and tasty looking on paper … but this time I was a little disappointed. The corn was definitely front and center, but almost too much. This recipe needed a little tweaking.
My first concern was with the texture, which was easy enough to fix. I took two cups of the soup and blended it up in the blender. Adding that back to the soup thickened it up nicely.
The flavor was my next hurdle. The soup tasted wonderfully fresh and sweet, but there was a lack of balance to the flavors. Adding salt wouldn't fix it. I needed something more complex. I found a recipe on Epicurious.com for a jalapeno parsley puree (I used cilantro). Once I swirled that into a bowl of the chowder, there was a perfect balance of heat and sweet. It was good. So good in fact, that it took a Herculean effort to avoid eating the entire pot of soup. It's that good.
Corn Chowder - adapted from a recipe by Mark Bittman
4 to 6 ears corn
4 cups water
1 tablespoon butter or neutral oil, like canola or grapeseed
1 medium onion, chopped
2 medium potatoes, peeled and chopped into 1/4-inch pieces
Salt and freshly ground black pepper
2 tomatoes, cored, seeded, and chopped, optional
1 cup milk (light coconut milk would be a great substitution)
1. Shuck the corn and use a paring knife to strip the kernels into a bowl. Put the kernel-less cobs in a pot with 4 cups water; bring to a boil, cover, and simmer for 10 minutes.
2. Meanwhile, put the butter or oil in a saucepan and turn the heat to medium-high. When the butter melts or the oil is hot, add the onion and potatoes, along with a sprinkling of salt and pepper. Cook, stirring occasionally, until the onion softens, about 5 minutes; add the tomatoes if you're using them and cook, stirring, for another minute or two.
3. After the corn cobs have cooked for at least 10 minutes, strain the liquid into the onion-potato mixture. Bring to a boil, then turn the heat down so the mixture simmers. When the potatoes are tender, after about 10 minutes, add the corn kernels and milk and heat through. In a blender or food processor puree 2 cups of the chowder and stir the puree into the remaining chowder. Taste and adjust seasoning if necessary, and serve. Drizzle each bowl with cilantro jalapeno puree.
For the puree: adapted from a recipe on Epicurious.com
2-3 fresh jalapeno chilies
1/4 cup olive oil
1 1/2 tablespoons fresh lime juice
1 tablespoon water
1 garlic clove, minced
1 cup packed fresh cilantro or parsley leaves
Make the puree:
Broil the jalapenos on the rack of a broiler pan under a preheated broiler about 2 inches from the heat, turning them every 5 minutes, for 15 to 20 minutes, or until the skins are blistered and charred. Transfer the jalapenos to a bowl and let them stand, covered tightly, until they are cool enough to handle. Wearing rubber gloves, peel the jalapenos, cut off the tops, and discard all but 1 teaspoon of the seeds. In a blender puree the jalapenos with the seeds, the oil, the lime juice, the water, the garlic, the cilantro or parsley, and salt to taste. The puree may be made 3 days in advance and kept covered and chilled.