YOU SHOULD ONLY BE HAPPY ....
recipe:

Lamb and leek patties a delicious departure from traditional beef burgers

Posted on Tue, Apr 24, 2012 : 12:35 p.m.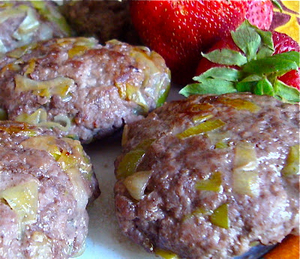 Mary Bilyeu | Contributor

Lamb and leeks are delicious springtime foods. And these patties — which feature both — are one of Jeremy's favorite dishes, so he was thrilled when I served them recently; it had been awhile.

Rather than plain ol' burgers made with ground beef — not that there's anything wrong with them! — why not try something with a different flair? Just chop and saute the vegetables, stir them into the meat, and cook them up. Served with a green salad, rice, potatoes or virtually any side dish — even served on a bun — they make a great meal.

While I usually offer this dish for Easter or for Passover, these lamb patties with leeks would also be fabulous for a barbecue, for a quick weeknight meal, or just because they're really good!

Lamb and Leek Patties

1 tablespoon extra-virgin olive oil
1 6-inch length leek, quartered lengthwise, sliced thin
1-1/2 pounds ground lamb
1 teaspoon kosher salt
2 teaspoons shawarma spices (available at Middle Eastern markets)

In a medium skillet, heat the oil over medium heat; add the leeks and saute for 5 minutes until softened and slightly caramelized. Let cool for 10 minutes.

In a large bowl, combine leeks, lamb, salt and shawarma spices; form into 8 patties. Cook in a large skillet for 7-8 minutes per side or grill them to desired doneness.

Makes 8 patties.

writes about her adventures in the kitchen - making dinner, celebrating holidays, entering cooking contests ... whatever strikes her fancy. She is also on a mission to find great deals for her Frugal Floozie Friday posts, seeking fabulous food at restaurants on the limited budget of only $5 per person. Feel free to email her with questions or comments or suggestions: yentamary@gmail.com.
You should also visit Mary's blog — Food Floozie — on which she enthuses and effuses over all things food-related.


The phrase "You Should Only Be Happy" (written in Hebrew on the stone pictured in this post) comes from Deuteronomy 16:15 and is a wish for all her readers - when you come to visit here, may you always be happy.