peggy lampman's dinnerfeed
recipe:

Kasha-Bow Tie & Chicken Salad full of complementary and assertive flavors

Posted on Mon, Jul 16, 2012 : 11:11 a.m.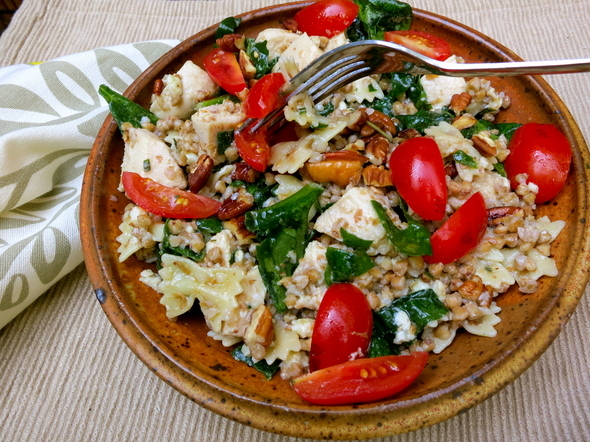 Peggy Lampman | Contributor

To receive my lastest dinnerFeed posts
by email, sign up here.
This salad's no shrinking violet, fading and retreating into the woodwork.The assertive flavor of kasha, which is roasted whole grain buckwheat, holds it own in a dressing of rosemary and blue cheese. I added bow tie pasta for another element of texture, which also was a welcome bite of levity paired with earthy kasha.
This summer, I've been injecting powerhouse elements, such as farro, quinoa, barley and cracked wheat into summer salads, pairing the grains with legumes, greens and pasta. I put the grains on to cook, then assemble the rest of the salad. In fact, this coming Thursday I plan to post another salad made with kale and farro, a grain whose flavor I prefer to kasha, and could be substituted for kasha in this recipe.
Lots of interesting textures and flavors in salads such as this, which may be made several hours in advance. Leftovers are a bonus, but it's best to stir in spinach and tomatoes just before serving.
Yield: 8 cups salad
Time: 35 minutes

Ingredients
3/4 cup (dry) bow tie (farfalle) pasta
3/4 cup (dry) kasha
1 1/2 tablespoons freshly squeezed lemon juice
1 teaspoon minced garlic
1/3 cup extra virgin olive oil
2 teaspoons finely chopped rosemary
2 cups baby spinach, stems removed, washed and spun dry
1 cup grape tomatoes, washed then sliced in half lengthwise
1 large poached skinless, boneless chicken breast half, cubed; optional
1/2 pecans, toasted and coarsely chopped
1/2 cup crumbled blue cheese
Instructions
1. Cook bow ties in salted water according to package directions. (If you overcook the pasta, it will fall apart somewhat and loose its bow tie shape.) In another pot, cook the kashi according to package instructions
2. Whisk together lemon juice, garlic, oil and rosemary.
3. Toss pasta and kashi with dressing, spinach, tomatoes, chicken, walnuts and blue cheese. Season to taste with kosher salt and freshly ground pepper.