Hot pastrami and pastries on a winter Thursday in Ann Arbor
Posted on Thu, Jan 14, 2010 : 3:02 p.m.
Jessica Webster | AnnArbor.com

I stopped by the Pastry Peddler this morning on my way to work, as I am prone to do on an alarmingly regular basis. I'd like to say that it's just because I want to patronize local businesses, but the fact is that I am addicted to their lemon muffins. My 8-year-old son, something of a croissant expert, has crowned their croissants, "my second favorite croissants in Ann Arbor, after Zingerman's croissants." High praise indeed from a boy who has been enjoying highfalutin pastries since he could eat solid foods.

Pastry Peddler owner Katy Loy is always happy to chat with customers as she oversees operations in her tiny storefront. Today we talked about her time off over the holidays, and how Ann Arborites are slowly finding their way back to her shop. "It's probably partly that people got out the habit of stopping by, and partly the whole New Year's resolutions thing." Personally, my resolution was to only eat locally-baked pastries, but to each his own.
Ann Arbor News File Photo
Katy had some good news for Northsiders: Sweetwaters has started carrying Pastry Peddler baked goods in their Plymouth Green location. You can also find a selection of her pastries at Comet Coffee, Mighty Good Coffee Cafe, The Produce Station, and a few other locations around town.
When lunchtime rolled around, I took my cue from a David Bardallis post. There's really a National Hot Pastrami Sandwich Day? Well ok then. If I'm going to celebrate Talk Like A Pirate Day, I definitely want to celebrate hot pastrami on its day! Plus, it just so happens that I work just a few blocks away from one of the most highly-acclaimed delis in America.
I anticipated a huge pastrami rush at Zingerman's today, so I called up and placed my order to go. I've never actually ordered a hot pastrami sandwich, so I had to take a look at the sandwich menu online. I selected #22 - Jenny's Fix - mainly because 22 is my favorite number, and a delicious spicy Blenheim Ginger Ale. The Zingerman's employee on the other end of the phone had other ideas though.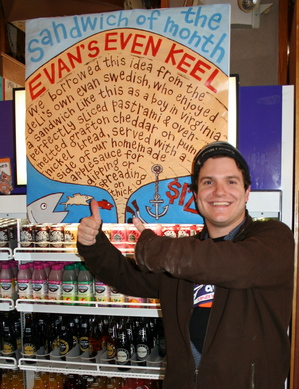 Jessica Webster | AnnArbor.com
"If you really want to celebrate National Hot Pastrami Sandwich Day, you gotta go with the sandwich of the month! Pastrami, Grafton cheddar and homemade applesauce on pumpernickel. It's called Evan's Even Keel. Oh...and I'm Evan."
How could I turn Evan down? Pastrami and applesauce it is then. And Evan was right. It was the perfect way to celebrate National Hot Pastrami Sandwich Day. I might have to celebrate it again next week.