peggy lampman's dinnerfeed
recipe:

Grilled Mexican Street Corn - get out a stack of napkins for this messy but delicious treat

Posted on Fri, Aug 24, 2012 : 4:53 p.m.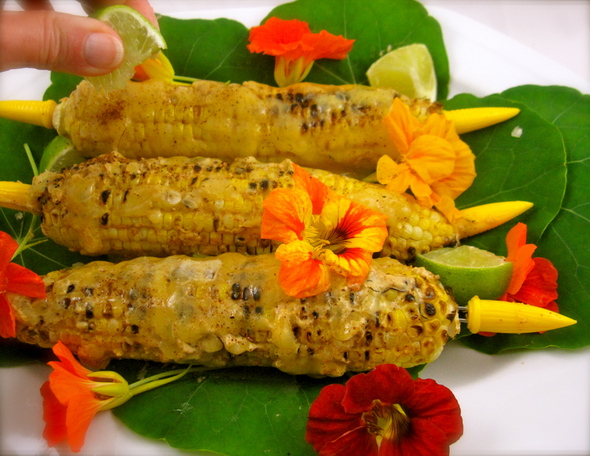 Peggy Lampman | Contributor

To receive my lastest dinnerFeed posts
by email, sign up here.
You'd better have a stack of napkins at the ready when serving these babies. My friend, Pat Shure, sent me this delectable corn recipe last year, and with the plethora of corn available around town, I'm pulling the recipe out of my hat.
From my perspective, the corn kernels are not as fat and juicy as in years past, but I marvel at what sweet corn is available, considering the drought our farmers dealt with this year.
Cilantro would be perfect sprinkled over the ears; I had none, alas, on hand. Last year, I saw this on a late summer special at Frida Batido on Washington, which is my restaurant of choice when craving authentic Latin street food. It was marvelous — perhaps this year?
Time: 35 minutes Yield: 6 ears of corn
Ingredients
6 ears of corn, husks and silk removed
6 tablespoons mayonnaise
2 tablespoons sour cream
1 tablespoon chili powder, plus additional for sprinkling over finished corn
1 tablespoon lime juice, plus extra lime wedges
Cayenne
1 cup freshly grated Cotija cheese* (about 5 ounces) best grated with microplane.
Instructions
1. Preheat gas or charcoal grill to medium-high heat; grill grates should be cleaned and oiled.
2. Grill corn, turning frequently, until kernels are speckled golden brown; 20-30 minutes depending on heat of flame.
3. While corn is grilling, in a small bowl, combine mayonnaise, sour cream, chili powder and lime juice. Season to taste with kosher salt and cayenne, if desired. Place grated cheese on a large plate and set aside.
4. When corn is cooked, attach corn holders to each ear, then - working quickly — paint each ear with the mayonnaise mixture (this is the glue for the cheese). Immediately roll each ear in the grated cheese; you are working quickly because you want the heat of the corn to soften the cheese. Sprinkle with additional chili powder and serve with lime wedges.
*Cheese available at Whole Foods; I'd imagine a queso quesadilla-style cheese could be substituted.