peggy lampman's dinnerfeed
recipe:

Grilled Lobster Tails with Tarragon Butter - sometimes bigger is better

Posted on Mon, Jul 9, 2012 : 3:40 p.m.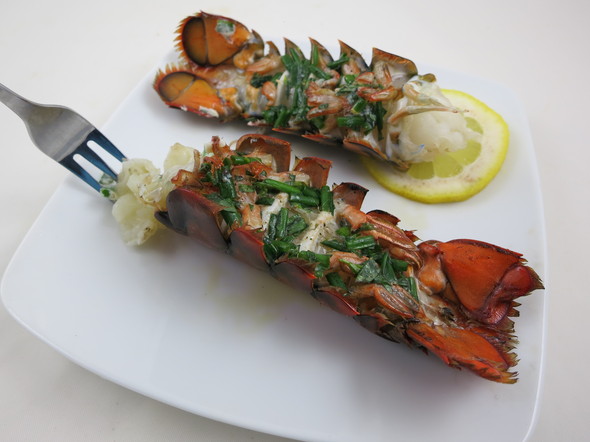 Peggy Lampman | Contributor

To receive my lastest dinnerFeed posts
by email, sign up here.
I meant to get those humongous lobster tails that were on sale at Whole Foods a week back, but never had a chance — but the memory of their attractive sticker price and largess haunts.
The usual price of those big lobster tails is too dear for this month's beleaguered food budget, but I'm still craving lobster; I defaulted to some tiny tails to relieve the tension. It didn't do the trick, and the amount of time I spent fooling around with the grill and butter, to only yield a couple of bites per lobster tail was not worth the effort.
I still present you with the recipe; this butter is phenomenal with any type of lobster preparation, be it steamed, baked or grilled. I just recommend using a bigger lobster tail and the recipe accommodates this. I've lots of tarragon and chives growing in my garden, and I adore tarragon (and champagne!) with lobster. I imagine basil and mint, an Asian preparation of ginger and cilantro, or simply garlic butter would be good combinations, as well.
Here's the consolation prize for my lobster tail woes: My birthday is tomorrow. Instead of grilling my usual Birthday Steak, I'll go to the Real Seafood and get a free lobster dinner for my birthday (as long as Richard pays for his). Thank-you Main Street Ventures for allowing me to satisfy my appetite and keep my bottom line unfrayed!
Yield: 2 lobster tails
Time: 40 minutes
Ingredients
3-4 tablespoons unsalted butter, room temperature
2 tablespoons chopped chives
1 tablespoon chopped tarragon leaves
2 lobster tails*
Extra-virgin olive oil
Lemon wedges
Chive sprigs
Special equipment: metal skewers
*I don't recommend using the 3-4 ounce lobster tails that I used unless you don't mind a bit of work for not much meat. Next time I'll get tails twice that size; there is enough butter in the recipe to accommodate larger tails.
Directions:
1. Preheat gas or charcoal grill to medium-high heat. Position the grill rack so it is about 3-inches away from heat.
2. In a small bowl, blend butter, chives and tarragon together with a fork. Season to taste with kosher salt and freshly ground pepper.
3. Using kitchen shears, cut the lobster tails down the center of the softer underside of the shell. With a sharp knife, slice the meat down the center; do not cut all the way through. Insert a metal skewer down the lobster tail so the tail doesn't curl while grilling. Brush the underside with oil and season with kosher salt and freshly ground pepper.
4. Grill lobsters, cut side down, until the shells are bright red and beginning to char; 8-15 minutes depending on the size of the tail and heat. Turn the tails over and spoon a generous tablespoon of herbed butter onto the butterflied meat. Grill until the lobster meat is an opaque white color, and cooked through.
5. Brush with additional herb butter and serve with lemon wedges.