YOU SHOULD ONLY BE HAPPY ....
food & grocery:

Frugal Friday at Revive - bagels, salads and yogurt parfaits are all thrifty options

Posted on Fri, May 25, 2012 : noon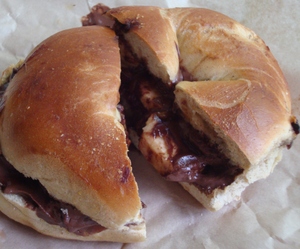 This toasty, creamy, gooey treat is the Nutella Bagel — Nutella and sliced bananas on a toasted cinnamon raisin bagel — which you can find at Revive, today's Frugal Floozie Friday feature. A luscious snack, I've been craving it since the day I tried it. At only $3.95, it falls well within our mandatory budget of only $5 per person, too ... that's pretty hard to resist!
But if you'd like to eat more nobly when you visit this bright and welcoming spot that offers light meals and snacks, then enjoy a creamy yogurt parfait — a sweet concoction of vanilla yogurt combined with lovely cut fruits and organic granola — for only $3.50. It was rich and brightly flavored, a perfect size without either being too generous or causing me to wish it were larger.

Fresh fruit, bagels with cream cheese, a wide variety of pastries, breakfast sandwiches, and many beverages (coffees, tea, sodas, and smoothies) are also available for less than $5 each. Many of these are provided by local businesses, too, from Mighty Good Coffee, Barry Bagels, Zingerman's Bakehouse, and the Pastry Peddler.
There's even a "create your own salad" option, starting with a base of $2.95 for greens and dressing; then you can choose from a wide variety of fresh options (priced individually) — vegetables, cheeses, proteins, nuts, fruits — to make your own unique dish. Revive is very vegetarian- and vegan-friendly and also serves beer and wine, which are 50 percent off from 3-6 p.m.
So stop by this bright, friendly, welcoming spot conveniently located on Central Campus to revive and refresh yourself with a treat or a beverage or a light meal. You'll be so glad that you did!
Revive
619 E. University
Ann Arbor, MI 48109
734-332-3366
Monday - Friday: 8 a.m.-9 p.m.
Saturday and Sunday: 10 a.m.-9 p.m.

writes about her adventures in the kitchen - making dinner, celebrating holidays, entering cooking contests ... whatever strikes her fancy. She is also on a mission to find great deals for her Frugal Floozie Friday posts, seeking fabulous food at restaurants on the limited budget of only $5 per person. Feel free to email her with questions or comments or suggestions:
yentamary@gmail.com
.
You should visit Mary's blog — Food Floozie — on which she enthuses and effuses over all things food-related. And be sure to look for her monthly articles about holiday foods and traditions in the Washtenaw Jewish News.
The phrase "You Should Only Be Happy" (written in Hebrew on the stone pictured in this post) comes from Deuteronomy 16:15 and is a wish for all her readers - when you come to visit here, may you always be happy.