peggy lampman's dinnerfeed
recipe:

Fresh Cherry Crostini - recipe showcases Michigan fruit... if you can find any

Posted on Fri, Jul 20, 2012 : 3:30 p.m.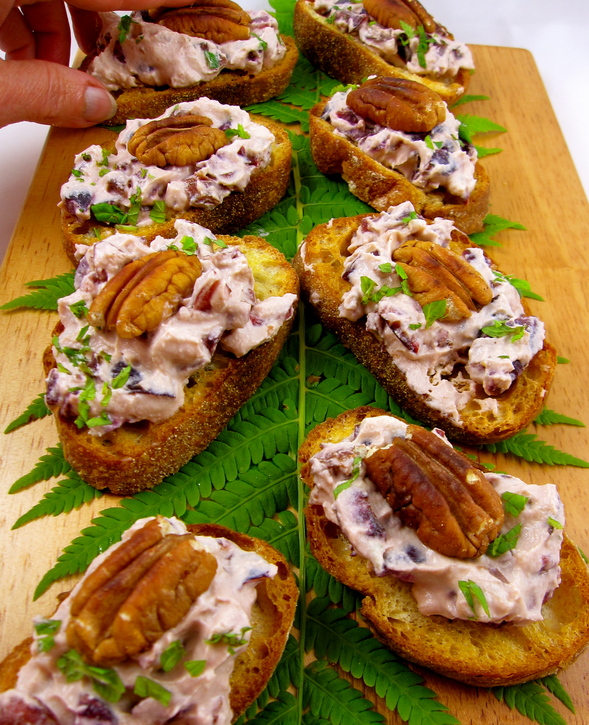 Peggy Lampman | Contributor

To receive my lastest dinnerFeed posts
by email, sign up here.
What a sad season for Michigan cherry lovers; certainly more so for our farmers. That crazy March weather was devastating to the cherry crops and, as Arbor Farm's Robert Cantelon tells me, "...there just was not much to sell."
Cherries are a favorite snack and recipe ingredient at this time of the year, and by default, I've been purchasing those that were grown and harvested in more fortunate regions of our country, Washington State, in particular.
Robert tells me Arbor Farms currently has a supply of Michigan cherries ($4.99 per pound), but may not be getting any more as supply is weak and quality is declining — the cherries are beginning to break down. Suppliers will be freezing their unsold (if any) before quality totally deteriorates. So here's a recipe for cherry's last stand, which would be a great apres-Art Fair nosh.
Sure, those March 80 degree days were a blast for some of us; but certainly not for Michigan farmers. Next year I'll cast aside my selfish yearning for warmth, and will hope for chilly weather — at least through March. It will be worth it come cherry season 2013.
Time: 40 minutes (includes time to pit the cherries)
Yield: 1 1/4 cups spread (enough spread for apx.16, 2 1/2-inch long, bread slices or crostini)
Ingredients
5 ounces soft goat cheese
2-1/2 ounces (1/3 cup) ricotta cheese
2 teaspoons balsamic vinegar
1 cup pitted, chopped sweet cherries
1 tablespoon chopped red onion
1 tablespoon chopped fresh mint
18 pecan or walnut halves, toasted
16, 2 1/2-inch long baguette slices*
Instructions
1. In a medium-sized bowl, mash together goat cheese, ricotta and balsamic vinegar with a fork until completely combined. Stir in cherries and red onion and season with freshly ground black pepper.
2. Spread cherry cheese mixture over each bread slice. Sprinkle with chopped mint and top each with a walnut of pecan halve. Serve.
*With a serrated knife, slice baguettes diagonally to get the 2 1/2-inch length. Brush with extra virgin olive oil and toast in a 350 degree oven until golden brown (about 15 minutes) to make crostini.