peggy lampman's dinnerfeed
recipe:

Grilled Shrimp with Firecracker Sauce - grilling with shells on preserves juicy flavor

Posted on Mon, Jun 25, 2012 : 9:45 a.m.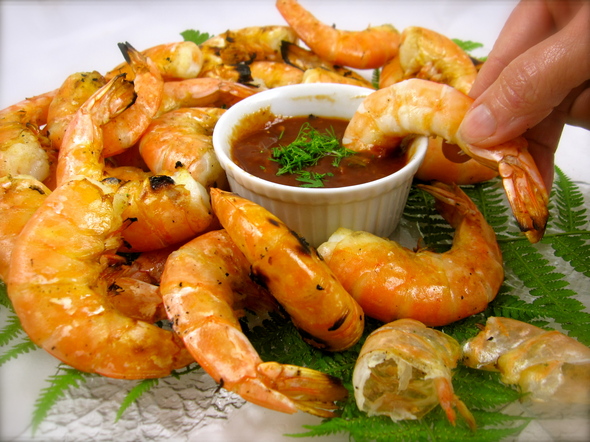 Peggy Lampman | Contributor

To receive my lastest dinnerFeed posts
by email, sign up here.
The Fourth of July is nine days away, and the warm-up booms are reverberating through the neighborhood. According to the website ehow.com, the tradition of igniting fireworks for special events began in China around 2,000 years ago. They're still used throughout China and thought to ward off evil spirits and celebrate births, deaths and other holidays. Grilled Shrimp with Firecracker Sauce seems an appropriate nosh for now.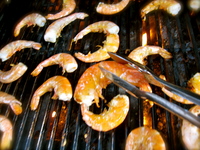 A ketchup and horseradish cocktail sauce is always delicious with shrimp. But, with a nod to the country that founded the fireworks tradition, I enjoy injecting an Asian flair to my dipping sauce recipe.
Grilling shrimp in the shell adds a great deal of flavor to the crustacean. The shell also protects the flesh from the flame, yielding a plumper, juicier and more succulent bite. Serving shell-on shrimp also requires my guests shell them, saving me time in the kitchen. Just remember to have plenty of napkins or damp cloths on hand.
When grilling shrimp, I strongly recommend purchasing the largest crustacean your purse will allow; small shrimp fall easily through the grates and dry out quickly. "Counts" and "Shrimp Size" labeling can be confusing so when grilling shrimp, I purchase shrimp that yields 8-12 shrimp per pound, generally labeled: "Jumbo Shrimp (prawns); 8/12 Count."
Yield: 16-20 jumbo shrimp
Active Time: 35 minutes
Defrost time (if using frozen shrimp): 24 hours, refrigerated
Ingredients
1/2 cup tomato ketchup
1/4 cup hoisin sauce*
2 teaspoons-2 tablespoons chili sauce (paste) with garlic*
1 1/2 teaspoons grated ginger
1 tablespoon chopped cilantro
2 pounds (16-20) jumbo frozen, raw shrimp (prawns), shell-on
1/4 cup olive oil
Instructions
1. To make Firecracker Sauce, combine ketchup, hoisin sauce and 2 teaspoons chili paste with garlic, ginger and cilantro. Add additional chili paste to taste. (May be made up to 48 hours in advance.)
2. Prepare a gas or charcoal fire to high heat. Toss shrimp, coating both sides, with olive oil. On a well-oiled grill grate, grill shrimp 2-3 minutes on each side or until shrimp are pink, opaque and just cooked through. Do not overcook the shrimp; they will continue to cook when removed from the heat.
3. Serve shrimp, when cool enough to peel, with Firecracker Sauce.
*Flavor-packed condiments found in the Asian section of most grocery stores and in Asian markets.