YOU SHOULD ONLY BE HAPPY ....
recipe:

Double BBQ chicken: This simple 3-ingredient recipe pleases kids and adults alike

Posted on Thu, May 3, 2012 : 8 a.m.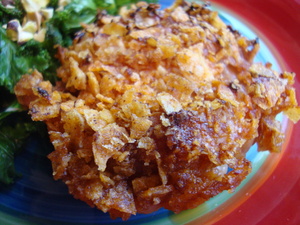 Mary Bilyeu | Contributor

This is a ridiculously easy but unbelievably great dish!

I was very happy to have been sent a generous box of goodies to play with, a lovely marketing gift from the Bender Hammerling Group, which handles public relations and marketing for several food producers. This assortment included several bags of Hawaiian Kettle Style Potato Chips.

The Luau BBQ chips just naturally lent themselves — to my mind, anyway — to a chicken dish. I have a new-to-me grill that I don't know how to use yet; so it seemed to me that I could still get great barbecue flavor if I used some sauce and the crispy, crunchy treats.

So here is just about the easiest recipe I'll ever offer, involving only 3 ingredients! Schmear some sauce onto chicken, then roll it in crushed potato chips. Kid-friendly ... aw, who am I kidding? It was a huge hit with all the adults, too — one of them told me, "This is the best chicken ever!" Great for a picnic, perfect for a weeknight dinner, ideal any time....

Double BBQ Chicken

1 cup honey barbecue sauce
6 ounces Hawaiian Kettle Style Potato Chips, Luau BBQ flavor
6 chicken thighs

Preheat oven to 400 degrees.

Place the barbecue sauce into a medium bowl. Crush the potato chips into crumbs and place into a medium bowl.

One by one, take each piece of chicken and dip it into the barbecue sauce to coat well; dip into the potato chip crumbs to coat thoroughly, then place the chicken into a baking dish. Bake for 40 minutes until the chicken is crisp and the juices run clear. Let rest for 5 minutes before serving.

Serves 4-6.

This would be great served with Cabbage and Fennel Slaw!

writes about her adventures in the kitchen - making dinner, celebrating holidays, entering cooking contests ... whatever strikes her fancy. She is also on a mission to find great deals for her Frugal Floozie Friday posts, seeking fabulous food at restaurants on the limited budget of only $5 per person. Feel free to email her with questions or comments or suggestions: yentamary@gmail.com.
You should also visit Mary's blog — Food Floozie — on which she enthuses and effuses over all things food-related.


The phrase "You Should Only Be Happy" (written in Hebrew on the stone pictured in this post) comes from Deuteronomy 16:15 and is a wish for all her readers - when you come to visit here, may you always be happy.