Recipe:

Cubano burger a tasty twist on the Cuban sandwich

Posted on Thu, Jul 12, 2012 : 5:47 a.m.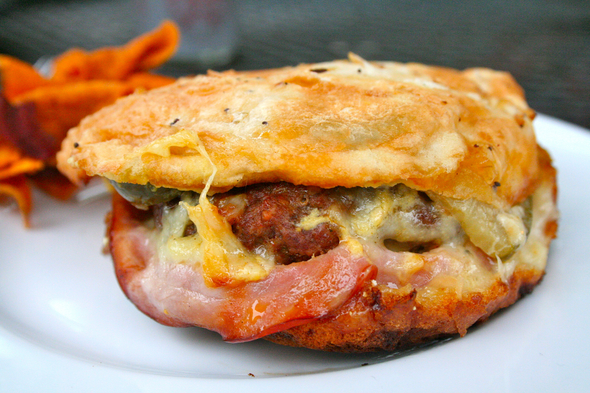 Jessica Webster | AnnArbor.com
With the high heat and recent power outages, I've been challenging myself to find food and drinks to serve that don't require me to heat up the entire kitchen, or that can be cooked entirely on the grill and don't depend on electricity for cooking.
After last week's grilled Brazilian caipirinha recipe, I thought it might be time for a visit to the cuisine of Cuba. Burgers came to mind, but if I want a classic Cuban burger (called a frita), we've got a wonderful downtown restaurant — Frita Batidos — that specializes in them.
But what if we took a classic Cuban sandwich and morphed it into a burger? I was introduced to the glory that is the Cuban sandwich during a business trip to Florida about five years ago, and they quickly became a favorite. Made from slices of ham, Swiss cheese, roasted pork, pickles, and slathered with mustard, the Cuban sandwich is pressed on a plancha until all the ingredients meld and melt together into something truly tasty.
When dreaming up my version of the Cuban sandwich as burger, I thought back to one of my favorite menu items from the old Zanzibar restaurant on State Street. They had a burger made from ground beef and chorizo that was perfectly juicy and just spicy enough. I had my concept: a chorizo and ground beef burger, topped with ham and Swiss, and pressed on the grill.
Recipe notes:
Raw chorizo sausage can be found in a variety of markets across town. I usually have good luck at Sparrow in Kerrytown, Plum Market on the west side of town, and both Whole Foods location.
I used McClure's garlic dill pickles for my burger, but any good dill will do.
Most traditional Cuban sandwich recipes call for yellow mustard, but I'm a Dijon mustard fan, so I went with a little Grey Poupon. You'd be fine with whatever your favorite mustard is.
This recipe has you dividing two pounds of meat into six patties. If you prefer thicker or larger burgers, divide into just four patties instead, and scale back the other ingredients to spread over four burgers.
Finally, if you're cooking these up on a Saturday night, check out Marc Taras and his "Cuban Fantasy" radio show from 7-9 p.m. on WEMU, 89.1 FM. Otherwise, throw on a little Tito Puente, Buena Vista Social Club, Celia Cruz or Arturo Sandoval and rock out while you cook out.
Cubano Burger (based on a "Cuban-style Burgers" recipe from Bobby Flay)
1 1/2 pounds ground beef
1/2 pound (approximately 2 links) raw chorizo sausage
salt and pepper
6 soft hamburger buns
12 slices swiss cheese
6 slices roasted ham
2-3 tablespoons yellow or Dijon mustard
2-3 tablespoons mayonnaise (optional)
2 or more dill pickles, sliced in half and then in 1/4-inch thick slices
In a medium bowl combine the ground beef and chorizo. Season with salt and pepper and form into 6 patties.
Grill the burgers on a clean, pre-heated, well-oiled grill over medium heat for 2-3 minutes on each side. Remove the burgers from the grill when they reach your desired level of doneness. Leave the grill going on medium heat with the lid closed while you build your burgers.
Spread mustard and mayonnaise on the top and bottom half of each bun, then build your burger from the bottom up, starting with a slice of swiss cheese, a slice of ham, a hamburger patty, pickle slices and another slice of swiss. Top each burger with the top bun, and wrap each burger in foil.
Place the foil-wrapped burgers back on the grill, and press down on the burgers for about a minute with either a heavy pan or a foil-wrapped brick. Then leave the burgers on the grill for another couple of minutes to let the cheese melt.
Unwrap your burgers and serve immediately with your favorite salads or burger accompaniments. Mojitos and limeade would pair up nicely with these.