Recipe:

Colleen's perfect blueberry and peach pie

Posted on Thu, Sep 1, 2011 : 9:30 a.m.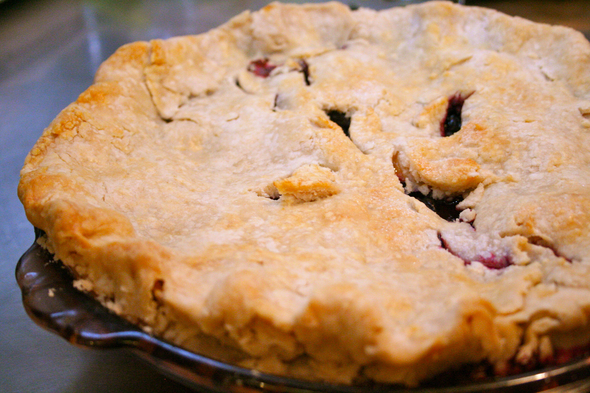 Jessica Webster | AnnArbor.com

My friend Colleen is one of the two best pie bakers I know, the other being my mom. Colleen loves making pies, and for her the gift of a fresh-baked pie is an expression of love and friendship. As a friend who has been on the receiving end of many a pie, I can tell you that being a friend of Colleen is a beautiful thing indeed.

It's been a crazy busy summer, both of us moms of grade-school aged boys. Between baseball and swimming and vacations, it had been a few weeks since Colleen and I had talked, but like all the best friendships, we picked up where we left off without a beat.

I told her about my impending west coast trip to attend the funeral of another close friend who had passed away very suddenly and unexpectedly. Five hours later, she was on my doorstep with this pie and a deck of cards. Pie and euchre were just what the doctor ordered.

The great thing about this pie is that it takes advantage of that particular point in time when both peaches and blueberries are in season in our part of the country. I'm including Colleen's recipe for pie crust with the note that if you are intimidated by pie crusts or short on time, you can always "cheat" and pick up a Pillsbury rolled pie crust in the refrigerated section at the supermarket.


Colleen's Blueberry and Peach Pie

Crust



3 cups all-purpose flour (King Arthur recommended)


1 teaspoon salt


1/2 cup cold shortening


1/2 cup cold butter


1 cup icy cold water


Step 1: In a large metal or glass mixing bowl, mix the salt into the flour.
Step 2: Quickly cut the shortening and butter into hunks over the bowl of flour.
Step 3: Take two dull butter knives, one in each hand, and quickly cut the fat products into the flour, crossing the knives and working your way down into the flour, mixing the ingredients as you go. This takes three to five minutes to get an even distribution. Developing this technique takes a little practice. You're going for a fine chop on the fats (butter and shortening), but you want even distribution into the flour. I don't like pastry cutters, but that may be an option if you need to resort to it.
The reason you do this quickly is so everything stays cold and doesn't get mushy, sticky or over worked.
Step 4: Once the flour and fats look like a course meal, slowly add the cold water (take the ice cubes out first if you need to). Start by slowly adding 1/3 cup of the water and mix it in with a fork. Add more water, as you need (use close to the full cup), until you can form two balls, using your hands (take your rings off before you try to do this and put flour on your hands). This part is tricky, because your hands are warm, so you don't want to touch the dough too much — it will get sticky.
Step 5: Once you have your dough balls formed, throw them back into the mixing bowl and stick them, uncovered, into the freezer while you make the pie guts.
Pie guts



3 peaches


4 cups of blueberries


2/3 cup sugar


3 tablespoons cornstarch


1 handful of flour


1 teaspoon of cinnamon


1/2 teaspoon nutmeg


1 hefty lemon slice


Lemon zest (about 1/4 of a lemon's worth)


Step 1: Start by peeling the peaches. Cut them up into hunks. A hunk is about the size of a lemon wedge. If you make them small, they'll cook down and give you a peachy flavor, but no bites of peach. You may opt for this. Either way it's good.
Step 2: In a large mixing bowl, add the peaches, blueberries, sugar, cornstarch, lemon, zest and spices. Mix quickly and evenly with a big spoon.
Step 3. Blueberry pie can get runny, so I put one or two handfuls of flour into the pie and mix it in. The peaches add juice so I find the flour helps contend with this issue and without compromising the flavor.
QUICK! DON'T FREEZE THE CRUST - TAKE IT OUT NOW!
If you bake like I do, there are lots of distractions (laundry, phone calls, etc.). If you leave your crust in the freezer for too long, it could freeze into a big hunk of doughy ice. I usually leave it in for 30 minutes to an hour and then take it out for 15 minutes before I assemble.
Pie assembly
STEP 1: Preheat the oven to 370.
STEP 2: Quickly roll the bottom crust. Make it so it's even and falls generously (1 inch or so) out of a 9-inch glass pie dish (I like Pyrex).
STEP 3: Pour in the guts.
STEP 4: Roll out the top of the crust and lay it over the fruit.
STEP 5: Make your pie beautiful! Cut off the excess crust with a knife, letting about 1 inch hang down the sides. Then tuck it under and use your thumbs to make a wavy edge. Take half and half (or whole milk, or beaten egg) and using a pastry brush, brush it evenly across the top, including the edges being careful to not make it too wet (egg especially can cause trouble if you go too thick — this is why I like half and half). Sprinkle sugar on it ASAP.
STEP 6: Cut decorative patterns into the top of your pie to vent it and make it pretty. I like to put leaves on mine but it could be someone's initial. Or a smiley face. Or just some slits so steam doesn't build up and make your pie top explode. A small paring knife is best for this.
STEP 7: Take tin foil and wrap it around the edges of the pie. I do this by making a big long piece and folding it around. Try to cover at least 2.5 inches of the edges but leave the center uncovered.
STEP 8: Put the pie on a cookie sheet in the center of the oven (in case she blows). Then bake (at 370) for 40 minutes. At 40, see if it's browning. If not, leave the foil on for another 10 minutes. If it is getting brown, take the foil off so the edges will brown, too. Total bake time should be between 50 - 65 minutes. The longer the better. Try to serve it about 90 minutes to 2.5 hours after you make it.
Jessica Webster leads the Food section for AnnArbor.com. You can reach her at JessicaWebster@AnnArbor.com.