peggy lampman's dinnerfeed
recipe:

Mark's Carts Roasted Tofu Pad Thai and Melon Salad with Thai Flavors

Posted on Fri, Jul 6, 2012 : 4:24 a.m.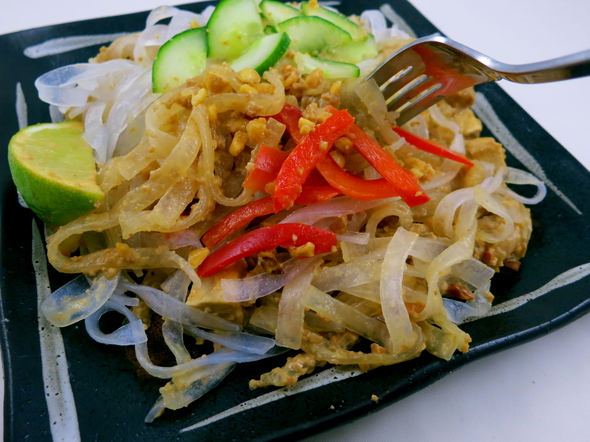 Peggy Lampman | Contributor

To receive my lastest dinnerFeed posts
by email, sign up here.

Tonight's menu is scratch-cooking, but I let Mark's Carts do most of the work. I purchased this flavor-packed pad thai, and made a simple melon salad enhanced with Thai basil and other herbs growing in the back yard to serve on the side.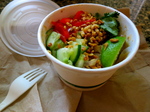 Mark's Carts offers the perfect solution for what to make for dinner when there's no time (or it's too hot!) to cook. The only down-side is — ethnic food lover that I am — I want something from every cart.The Lunch Room won out tonight, as any one of their menu items would complement the melon salad I had planned.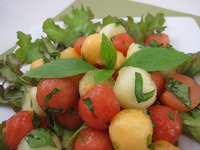 I've a mother-lode of lentils in my cupboard and plan to make Dal next week; perhaps I'll stop by Hut-k Chaats and see what would complement this favorite bean dip. Or maybe some paella from Debajo del Sol to go with Shrimp Tapas. A healthy salad from The Beet Box to serve as a side for grilled fish would make my body happy. (I'm just warming up.)
You'd be off-base thinking the cart fare is off-kilter for a less exotic palate. There's a wood-fired pizza cart and artisan cheese sandwich cart that would please even the most persnickety of children. And if you're green card says vegan, you're covered. And why not begin your day with a breakfast burrito from Darcy's Cart?
Where was I? Oh yes, today's recipe. Obviously I don't have a recipe for their Pad Thai, but here's a recipe for the accompaniment. Enjoy!
Time: 15 minutes
Yield: 4 servings
Ingredients
Zest and juice from 1 small lime
1 tablespoon walnut oil
1 tablespoon honey
1 teaspoon minced shallot
1 tablespoon grated ginger
6 cups chopped* melon, such as watermelon, cantaloupe and honeydew
1/3 cup any combination, Thai basil, cilantro and mint
Instructions
1. To make the dressing, whisk together lime zest and juice, walnut oil, honey, shallot and ginger.
2. Toss melon and herbs with fruit. If time allows, let sit, refrigerated, 1-2 hours for flavors to combine.
* May also use a melon baller to carve out fruit.