peggy lampman's dinnerfeed
recipe:

Tomato-Zucchini Soup is tasty cool or warm

Posted on Fri, Sep 7, 2012 : 3:07 p.m.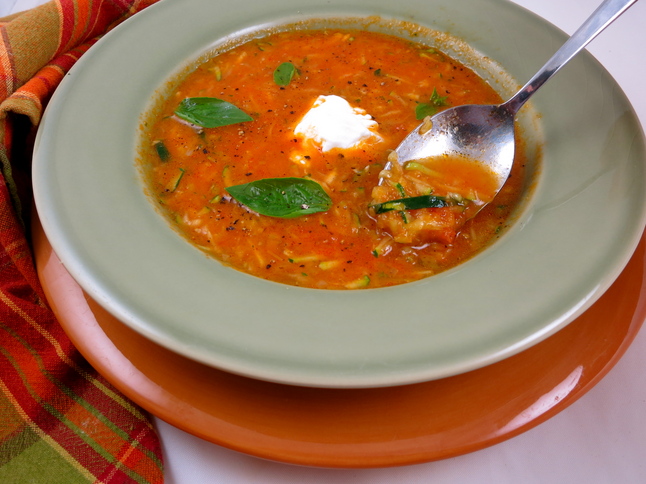 Peggy Lampman | Contributor

My dinnerFeed web site is a lean,
mean fighting machine!
To receive my lastest dinnerFeed posts
by email, sign up here.
I purchased a tiny tomato cookbook at a library sale last summer — I still prefer illustrated cookbooks to recipes I find online. I much prefer working from pulp than electronics; the recipes seem better tested. The author made a commitment to publishing, thus acknowledging the inability to make corrections at a later date.
This book is called "The Tomato Cookbook" (1994 edition), edited by Nicola Hill, and a part of a Basic Ingredients library.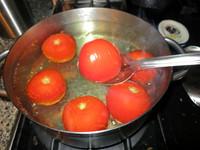 Growing up, I watched my mother skin tomatoes for many recipes. I still skin tomatoes the same way: Bring a pot of water to a boil. Drop them into the boiling water about 2 minutes, depending on the size and ripeness of the tomato, or boil until the skin puckers. Remove with a slotted spoon. When cool enough to handle, the skins should slide easily off. My mom made a criss-cross in the top of each tomato, but I've found that's not necessary.
The cookbook says to serve the soup cold, but it was equally delicious warm. When hot I prefer without yogurt, when chilled it's best to stir a bit in. I also added leeks, which were a marvelous addition.
Active Time: 30 minutes
Time to Chill (if serving chilled): 4-24 hours
Yield: 4 servings
Ingredients
3 tablespoons extra virgin olive oil
1 cup finely diced leek
1 teaspoon minced garlic
2 tablespoons tomato paste, extra strength if possible
2 pounds of tomatoes, peeled, seeded and chopped*
3 cups vegetable or chicken stock
2 zucchini, (1-1 1/2 pounds total); trimmed and coarsely shredded
Fistful of torn or chopped basil, plus leaves for garnish, if desired (optional)
3 tablespoons plain yogurt, optional
*See above text for easy ways of peeling tomatoes
Directions
1. Heat the oil over medium-low in a heavy-bottomed stockpot. Add leeks with a pinch of kosher salt and sauté until just beginning to soften, about 2-3 minutes. Stir in garlic and cook 1 minute. Stir in tomato paste, tomatoes and stock. Bring to a boil then reduce heat to low, simmering the soup about 10 minutes.
2. Ladle soup into a food processor or blender, and purée until smooth. Return to pot and stir in zucchini and basil, if using. Season to taste, if needed, with kosher salt and freshly ground pepper. Chill at least 4 hours and up to 24 hours.
3. Serve soup garnished with fresh basil leaves and a dollop of yogurt, if using.