peggy lampman's dinnerfeed
recipe:

Chicken Taco Salad perfect for graduation parties

Posted on Mon, Jun 11, 2012 : 4:56 a.m.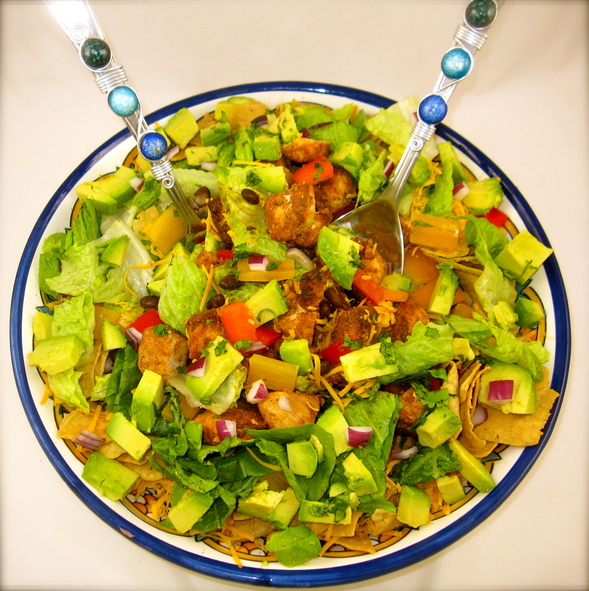 Peggy Lampman | Contributor

To receive my lastest dinnerFeed posts
by email, sign up here.
It's hard to miss the signs of graduation parties popping up across town. Literally, signs. Colorful boards staked at the cross roads of intersections — balloons in a school colors tied to the posts — arrows pointing right or left indicating Stacy or Craig's graduation party is just around the corner.
Many parties are catered, which give proud caregivers breathing room to celebrate the child's success. Other graduation party menus (such as those made in past years by yours truly) are scratch-made in home kitchens, with most of the items made in advance.
This is an excellent example of a make-ahead salad. The dressing may be made a day in advance, and all of the other components, chopped and put into Zip-locks several hours prior to serving.
Last week I delivered another such recipe to you via Ann Arbor.com, a Greek Bow Tie Salad with Basil Ribbbons. Teenagers and adults gobble today's make-ahead favorite, as well, with abandonment.
Time: 40 minutes
Yield: 4-6 main course salads (8-14 potluck-sized servings)
Ingredients
12 chicken tenders, or 1 1/2 pounds skinless, boneless chicken breasts
2 tablespoons Southwest seasoning mix*
1 tablespoon grape seed or canola oil
1 small head romaine lettuce; washed, spun dried and chopped (6 packed cups)
1 1/2 cups tortilla chips (approx. 4 ounces), broken into large pieces, if desired
1 cup cooked black beans, drained and washed if using canned
Assorted colored bell peppers; seeds and membranes removed then diced (1 cup)
1 avocado, diced
1/2 small red onion, diced (1/2 cup)
1 1/2 cups shredded cheese, such as cheddar, jack or a combination
Chopped cilantro, optional
*Pre-made taco seasoning or a combination of ground cumin, chili powder, chipotle powder, kosher salt and cayenne.
Directions
1. Cut chicken into 3/4-inch pieces and toss with seasoning mix.
2. In a large sauté pan, heat oil over medium heat. Add chicken tenders and sauté until cooked through, 3-4 minutes on each side. Refrigerate until ready to compose salad.
3. On a large platter or in a salad bowl, arrange, layer or toss together lettuce, tortilla chips, black beans, peppers, avocado, onion, cheese and chicken.
4. Meanwhile combine lime juice or tomatilla salsa, sour cream, chopped chipotle, corn and cilantro, if using, and 3 tablespoons water; whisk together until smooth.
Toss salad with dressing or serve dressing on the side.