Recipe:

Celebrate Cinco de Mayo with a simple and fun chicken fajita salad

Posted on Thu, May 3, 2012 : 2:56 p.m.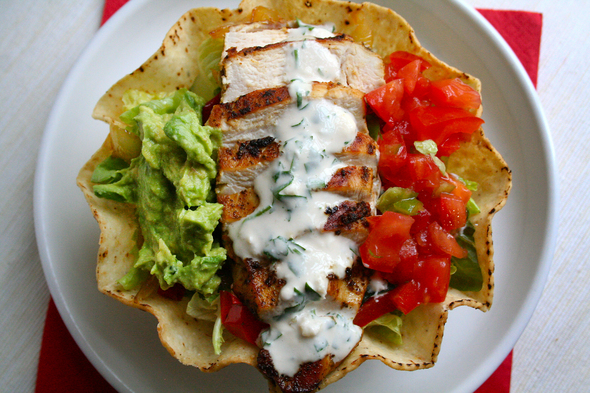 Jessica Webster | AnnArbor.com
Cinco de Mayo is a celebration of the Mexican victory over Napoleon III's French forces in the Battle of Puebla in 1862. It's a huge celebration in the region of Puebla, and over the years it has spread to areas of the United States with a large concentration of people with Mexican heritage. And for the rest of the population, it seems to have become an excuse to consume tacos and large quantities of Mexican beer.
One might say that fajitas have about as much to do with Mexican culture and the true meaning of Cinco de Mayo as do stumbling frat boys chugging Corona and Dos Equis. Fajitas are more of a Tex-Mex or southwestern American dish. But as much as I have a deep appreciation for authentic Mexican cuisine, I was looking for a quicker dish that I could make between piano and swim lessons, dog training classes and homework.
I've become quite enamored with the Margarita Fajita Salad at Sidetrack Bar and Grill in Ypsilanti. For this year's Cinco de Mayo celebration at Casa Webster, I tried to emulate it at home. Instead of topping the salad with tortilla strips like they do at Sidetrack, I built the salads in tostada shells, available in the international/ethnic food sections in most grocery stores.
You can cut out some of the fat in the salad dressing by using low- or no-fat sour cream, "lite" mayonnaise and skim milk.
If you are not a meat-eater, this salad would be just as good without the chicken.
And finally, my sincere apologies if you're a cilantro hater. Next week's recipe will not have a hint of the herb.
Creamy Cilantro-Lime Dressing
Ingredients



1/2 cup sour cream


1/2 cup mayonnaise


1/3 cup milk


3 tablespoons lime juice


2 tablespoons chopped fresh cilantro


1 tablespoon balsamic vinegar


2 large garlic cloves, minced


Preparation
Combine all ingredients, and whisk well. Cover and chill.
Cilantro-Lime Chicken Marinade from Bon Appetit
Ingredients
1 1/2 cups coarsely chopped fresh cilantro
3/4 cup olive oil
5 tablespoons fresh lime juice
2 1/2 teaspoons ground cumin
1 1/4 teaspoons ancho chile powder (regular chili powder is a fine substitute)
Preparation
Puree all ingredients in the food processor or blender.
Chicken fajita salad
4 boneless, skinless chicken breasts
1 teaspoon olive oil
2 sweet peppers, red, yellow or orange, cut into strips
1 poblano pepper, seeded and cut in strips
2 medium onions, sliced into strips
1 head romaine lettuce, washed, dried and shredded
4 tostada shells
guacamole, salsa, sour cream as desired for toppings
Marinate the chicken breasts in the cilantro-lime chicken marinade for one hour, covered, in the refrigerator.
Heat the olive oil in a large frying pan over medium heat. Add the onions and cook, stirring regularly. After 3 or 4 minutes, add the sweet peppers and poblano pepper, and cook for an additional 12 minutes, stirring regularly. Remove from heat once the onions soften and start to brown slightly.
In a non-stick skillet, over medium heat, cook the marinated chicken breasts until browned and cooked through; about 7 minutes per side.
Remove the chicken from the skillet and set aside to rest for 3-4 minutes. Transfer to a cutting board and slice the breasts crosswise into strips.
Fill each tostada shell with shredded romaine. Top with the grilled onions and peppers.
Arrange the chicken over the peppers and onions. Drizzle the cilantro-lime dressing over the salad.
Top with salsa, guacamole, sour cream or any of your desired toppings.
Jessica Webster leads the Food & Grocery section for AnnArbor.com. You can reach her at JessicaWebster@AnnArbor.com.