peggy lampman's dinnerfeed
recipe:

Beer & Buttermilk Battered Soft Shell Crabs

Posted on Thu, Jul 5, 2012 : 4:42 a.m.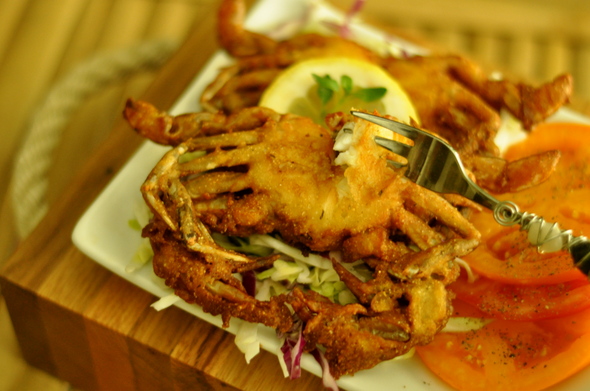 Peggy Lampman | Contributor

To receive my lastest dinnerFeed posts
by email, sign up here.
Savoring crab meat plucked from the shell is surely one of life's great pleasures. Spending an evening picking through crevices, crab debris and bits of shell hunting for elusive morsels of the sweet white meat is, conversely, one of life's great tortures — especially when you're hungry.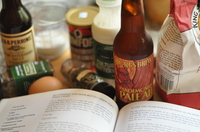 Soft-shelled crabs are a crustacean lover's antidote to the crab-picking blues; you don't have to mess with a shell — I love 'em for that. I'm also crazy about their flavor, and appreciate that you can (and should!) eat the entire crab, right down to its delectable little pinchers. According to the website, bluecrab.info/molting, soft-shelled crabs stop eating prior to shedding their shells, or molting. This may be one of the reasons soft-shelled crabs have such an essence of clean, crabalicious flavor.
Depending on the vagrancies of their habitat and water temperature, these creatures of the sea come to us Michiganders from the Chesapeake Bay or Floridian waters. They are not a particular species of crab, but distinguish themselves because of their development process.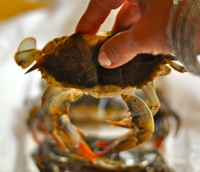 In the life of a crab, most of their time is spent in hard protective mantles scuttling about the bay and ocean floors of the world. There is only a brief period when the crabs outgrow then shed their shells, resulting in the soft covering. Soon after, they begin rebuilding their shell. In the life of the fishermen who catch the crabs, watermen read for coloration or a reddish line on the paddle fins when they are getting ready to molt.
At that point, according to Monahan's Seafood website, the crabs are, "...stored in holding tanks and must be monitored 24 hours a day until they peel. After which they are taken out of the water where they cease to harden and are shipped off to market. This is why soft shell crabs are such an expensive (although we're seeing some great prices right now) and wonderful seasonal treat."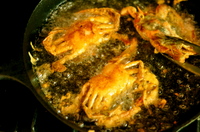 Mike Monahan, owner of Monahan's Seafood in Kerrytown, tells me the best soft-shelled crabs are sold and eaten within 24 hours of molting. However, it's tricky handling them to make that happen; they're quite fragile after molting.
"The crabs must be packed in newspaper or straw and immediately shipped to us, alive and quickly, so we can sell them that day." Monahans has them shipped from Maryland all summer — Memorial Day to Labor Day. They even receive shipments from Florida as early as April so the season is long.
Soft-shell crabs are also great specimens for the grill. Simply season with salt and pepper, grill over medium-high heat about 4 minutes per side, and serve with lemon wedges and a flavorful dipping sauce. They are also marvelous fried, and the batter I used in the following recipe was so flavorful, there was no need for accoutrements, aside from a lemon wedge. I imagine this would also be a great batter for shrimp or oysters. I served the crabs over a bed of cole slaw with sliced tomatoes on the side.
The following recipe was adapted from Magnolias: Southern Cuisine Cookbook. I decreased the amount of batter called for in the original recipe and also added cornmeal, which is a delicious, crispy component in a seafood crust; the batter seemed thin without it.
Yield: 6 (6-inch) fried crabs
Time: 40 minutes (frying 2 batches)
Ingredients
1/4 cup buttermilk
1 egg
3/4 cup white flour, plus extra for dusting crabs
1 cup cornmeal
3/4 teaspoon baking powder
1 tablespoon sugar
1 teaspoon kosher salt
1 teaspoon freshly ground pepper
1/2 teaspoon dried thyme
1/2 teaspoon dried basil
1-1 1/2 cups beer
1/2 tablespoon Worcestershire sauce
3-4 cups peanut or canola oil for frying
6 whole soft shell crabs, prepped for cooking*
1 large lemon, cut into wedges
*I strongly recommend you request your fishmonger clean the crabs for you. Otherwise you must remove the face, apron, gills and innards yourself, a task ill-suited for the squeamish.
Directions
1. Preheat oven to 225 degrees. Line a baking sheet with paper towels.
2. To prepare the batter, whisk the buttermilk into the egg until smooth. Combine the 3/4 cup flour, cornmeal, baking powder, sugar, salt, pepper, thyme and basil. Slowly sprinkle the dry ingredients into the wet, whisking until smooth. Slowly add a cup of beer and Worcestershire sauce, whisking until smooth and incorporated into mixture. The mixture should be somewhat thick and batter-like; add additional beer if needed.
3. Place 3 cups oil in deep, heavy-bottomed skillet; cast-iron preferred. Oil should be apx. 3/4-inch deep; add more if necessary. Heat oil to medium-high or high heat (340 degrees); a bit of batter will sizzle, but not burn, when oil is ready for crabs.
4. Lightly season both sides of crab with kosher salt and freshly ground pepper, and dust both sides with flour. Dip crabs into batter and place, in batches, into hot oil. Fry about 4-5 minutes on one side or until golden brown. With tongs, flip crabs and fry 3-4 minutes or until golden brown; regulate heat if necessary to insure crabs are sizzling but not burning.
5. When crabs are cooked, place on baking sheet and put in oven to keep warm until serving. Serve with lemon wedges.