peggy lampman's dinnerfeed
recipe:

Easy Brats and Corn on the Grill - a simple summer dinner with lots of flavor

Posted on Mon, Jun 18, 2012 : 4:56 a.m.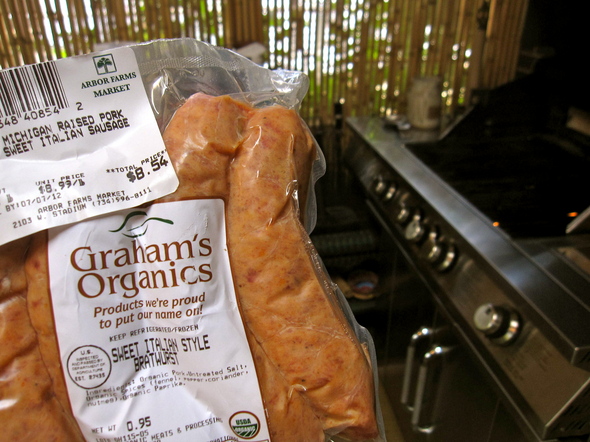 Peggy Lampman | Contributor

To receive my lastest dinnerFeed posts
by email, sign up here.
Tossing some brats and a couple of ears of corn on the grill, then seasoning the cooked corn with a bit of butter and basil — what could be a simpler summer supper. But in past years I've had misgivings about certain "I won't name names" sausages I've been eating.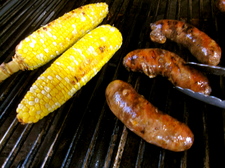 How wonderful it is to be able to use Michigan-produced sausages, from animals that were humanely raised. It feels good supporting local farms, helping in a tiny way to keep green space green.
The flavor of fennel is delicious and pronounced in these juicy, organic brats. And, like a good brat should, it spit back when I bit into it.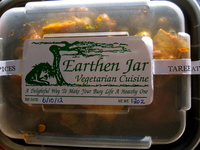 By the way, off topic, while shopping for brats, I picked up a package of Curried Tofu and Peas made by the folks at the Earthen Jar on South Fifth Avenue. With the endless construction in that area of town, the cozy vegan mecca is struggling. Arbor Farms is taking up some of the slack and recently began selling some of their more popular dishes. I purchased a curried tofu and pea concoction that was delicious with rice.
Yield: 2 servings
Active Time: 5 minutes
Corn Soak Time: 15 minutes
Grill Time: apx. 20 minutes
Ingredients
2-4 Italian-styled bratwurst sausages
2 ears corn, husks and silks removed
Unsalted butter as desired
2 tablespoons chopped basil
Directions
1. Place corn in a pot and cover with water. Let soak 15 minutes; drain.
2. Prepare gas or charcoal grill to medium-high heat. Place brats and corn on grill grate and cook, turning every five or so minutes, until corn is tender and sausage is cooked through, 15-20 minutes. (Be prepared for flare ups from sausage drippings and, with tongs, move sausage to a cooler section of the grill if this occurs.)
3. Brush hot corn with butter and season to taste with kosher salt and freshly ground pepper. Sprinkle with chopped basil and serve with brats.