YOU SHOULD ONLY BE HAPPY ....
recipe:

Blueberry ricotta pancakes are ideal when you want breakfast for dinner

Posted on Tue, Jul 17, 2012 : 10:45 a.m.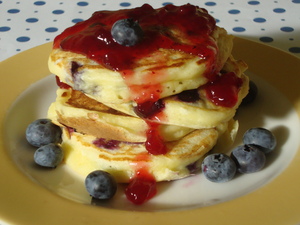 Mary Bilyeu | Contributor

I eat dinner for breakfast on a pretty regular basis — leftovers are a supremely ideal way to start the morning, as far as I'm concerned — so why not let the two meals trade places? Breakfast for dinner is everyone's favorite, after all.

So that's precisely what I did: I came home from work and running errands one day, and I made pancakes to serve for dinner.

But these weren't just any ol' pancakes from a mix, although they truly were just as easy to prepare. These were moist, light, and tender; and they were sweet, too, even though there's no added sugar. Topped with a bit of jam and strewn with some extra fruit, this was an exceptionally nice meal for a warm summer day in the midst of Michigan's blueberry season.

Blueberry Ricotta Pancakes

4 eggs
1 cup ricotta cheese
juice from 1/4 lemon
pinch of kosher salt
1-1/2 teaspoons aluminum-free baking powder
1 cup flour
1 cup blueberries
1 tablespoon butter
syrup, jam, honey, fruit, etc. for topping

In a medium mixing bowl, whisk together eggs, cheese, lemon juice, salt, and baking powder. Whisk in flour until batter is just combined.

Heat a skillet over medium-low heat and brush with a bit of butter. Pour batter by 1/4-cupfuls and cook about 3 minutes per side until golden brown. Remove from heat, keep pancakes warm, and continue cooking until batter is gone.

Serves 4.

Mary Bilyeu writes for AnnArbor.com on Tuesdays, Thursdays, and Fridays, telling about her adventures in the kitchen - making dinner, celebrating holidays, entering cooking contests, meeting new friends ... whatever strikes her fancy. She is also on a mission to find great deals for her Frugal Floozie Friday posts, seeking fabulous food at restaurants on the limited budget of only $5 per person. Feel free to email her with questions, comments, or suggestions: yentamary@gmail.com.

Go visit Mary's blog — Food Floozie — where she enthuses and effuses over all things food-related on Mondays, Wednesdays, and Fridays; and look for her monthly articles in the Washtenaw Jewish News. "Like" her on Facebook, or send a tweet on Twitter, too.

The phrase "You Should Only Be Happy" (written in Hebrew on the stone pictured in this post) comes from Deuteronomy 16:15 and is a wish for all her readers - when you come to visit here, may you always be happy.