YOU SHOULD ONLY BE HAPPY ,,,
Baking Banana Cupcakes
Posted on Thu, Jan 7, 2010 : 7 a.m.

My beloved friend, Wendy, has invited Jeremy, Tom and me to her daughter Alison's birthday party tonight for a belated celebration, since Alison was in Germany this past Saturday when she turned 20. (20?!?!? How did that happen??? I've known her since she was 5!) Wendy is making a white sheet cake, which will be slathered with her grandmother's buttercream frosting -- if not the very best food on the planet, then it's at least in the top 3.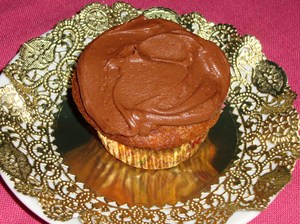 Mary Bilyeu, Contributor

I have been assigned to bring "some chocolate cake-y type thing" as a complement, and so I have made Chocolate Frosted Banana Cupcakes.

Since I won't have time to bake later today (between work and going to another good friend's art show reception), I needed to have something that would keep well through the day; and because bananas help to keep baked goods very moist, this seemed like the perfect choice. And how can anyone go wrong with chocolate frosting, whether keeping it intact on the cupcake, or licking the frosting from the whisk, or eating it "as is" with a spoon???

When Alison was an exchange student in Germany during her senior year in high school, she bought me a very special gift: a cookbook filled with chocolate recipes. Since I don't know German, she is in the process of translating it for me so that I can actually put it to use! Chocolate is just one of numerous bonds that we share. Alison is practically my own child, and a woman with a bright and fabulous future. I am happy to offer these cupcakes as my gift to her ....

Chocolate-Frosted Banana Cupcakes

Cupcakes (adapted from a recipe in Best of Taste of Home, Volume 2):

1/2 cup butter, at room temperature 1 cup sugar 2 eggs 1 teaspoon vanilla extract 1-1/4 cups flour 1 teaspoon baking soda 1/2 teaspoon kosher salt 2 medium bananas, mashed

Frosting:

3/4 cup semisweet chocolate chips 1/3 cup butterscotch chips 1/3 cup butter 2 cups confectioners' sugar half-and-half

Preheat oven to 350 F. Place cupcakes papers into a 12-cup muffin tin.

In a large bowl, beat together the butter and sugar; add the eggs and vanilla. Beat in the flour, baking soda and salt, then beat in the bananas.

Divide the batter among the cupcake papers, and bake for 20 minutes or so until a toothpick inserted into the center of a cupcake comes out clean. Let cool completely.

In a medium microwave-safe bowl, microwave the chocolate and butterscotch chips on "high" for 1 minute or more, until melted; stir until smooth. Whisk in the butter and 1 cup of the confectioners' sugar. Add 1/4 cup half-and-half and whisk until smooth. Add the remaining confectioners' sugar, then add more half-and-half little by little -- continuing to whisk the frosting -- until it is well combined and the frosting is of spreading consistency. Spread the frosting onto the cupcakes, and enjoy!

Mary Bilyeu has won or placed in more than 60 cooking contests and writes about her adventures as she tries to win prizes, feeds hungry teenagers and other loved ones, and generally just has fun in the kitchen. The phrase "You Should Only Be Happy" (written in Hebrew on the stone pictured next to the blog's title) comes from Deuteronomy 16:15, and is a wish for all her readers as they cook along with her ... may you always be happy here!

You can contact Mary at yentamary@gmail.com.