peggy lampman's dinnerfeed
recipe:

Baked Peaches with Savory Ground Turkey pairs poultry with summer's sweetness

Posted on Fri, Aug 3, 2012 : 4:10 a.m.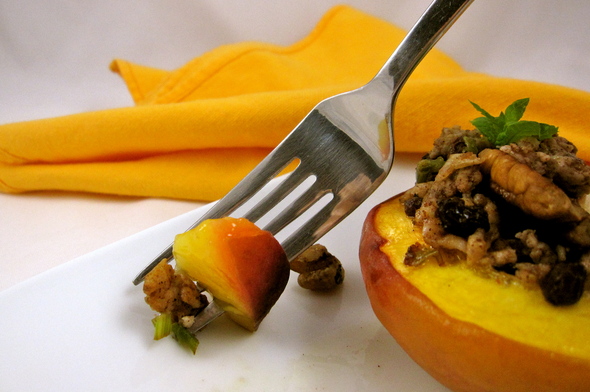 Peggy Lampman | Contributor

To receive my lastest dinnerFeed posts
by email, sign up here.
Peach of my heart, love of my palate; shall I compare thee to a summer's day? Nothing in the world could taste as sweet! But Shakespearean pinings for peaches are only meant for summertime, as peaches purchased in February are an altogether different species. In fact, if I'm craving a peach in winter, I pass the produce section and head to the frozen food cases.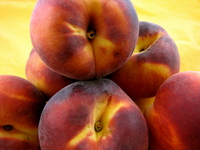 When selecting the perfect peach, deeply inhale the aroma, which will be your first indicator of flavor; a peach should smell like a peach. Then inspect the peach, rejecting any with soft spots or blemishes. As well, a greenish cast beneath the rosy pallor or at the stem end is a sign the peach was plucked before its time.
If your peaches are firm, let them stand on the kitchen counter a few days or until they're soft to the touch. If you're cooking fresh peaches, they should be ripe but slightly firm to the touch.
Time: 40 minutes
Yield: 8 stuffed peach halves
Ingredients
8 pecan halves for garnish, plus 1/3 cup chopped pecans
4 large firm-ripe peaches
1 small leek, well-washed and finely chopped
2 tablespoons extra virgin olive oil or unsalted butter, divided
8 ounces ground turkey
1 teaspoon ground cinnamon
1/2 teaspoon ground allspice
2 tablespoons currants
3 tablespoons chopped mint plus extra sprigs for garnish, optional
Instructions
1. Preheat oven to 350 degrees. Toast pecan halves, reserving chopped pecans.
Wash peaches and cut in half (peaches often have a "seam"; this is where I cut). Remove pit and discard. With a melon baller or pointed spoon, scoop out some of the flesh, if necessary, so the pit is 1/2-inch deep.
2. Place peach halves into a baking dish, with a 1-2 inch lip. Fill bottom of dish with 1/4-inch water. Divide 1 tablespoon butter into slivers and place butter, or oil, into the pit of each peach half.
3. Bake peaches, uncovered, on center rack of oven 15 minutes, or until just tender. (Note: Cooking times vary depending on age and size of the peach; you should be able to insert the prong of a fork into the peach.)
4. While peaches are baking, sauté leek and chopped pecans in oil or butter, until leeks are softened and nuts are toasty, about 4 minutes. Stir in cinnamon and allspice. Add ground turkey and sauté, breaking up with a fork, until just cooked through.
5. Divide, mound and press turkey mixture into the peach pits. Tent with foil, return stuffed peaches to the oven, and bake for an additional 10-20 minutes, or until tender. Garnish with toasted pecan half and mint sprigs, if using.