Peggy Lampman's Tuesday dinnerFEED
Recipe:

Asian-Styled Grilled Eggplant and Shiitake Mushrooms over Brown Rice takes veggies out of the wok and onto the grill

Posted on Tue, Jul 12, 2011 : 4:05 a.m.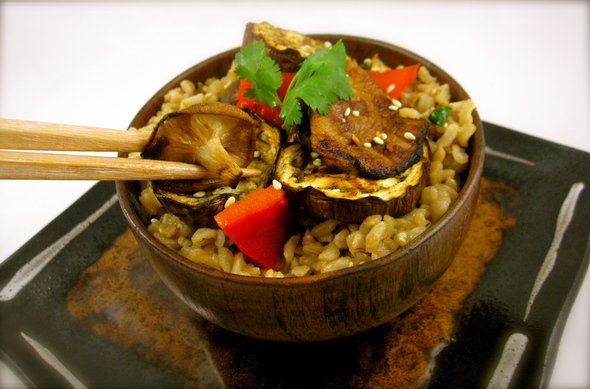 Peggy Lampman | Contributor

Peggy Lampman's Tuesday dinnerFeed
If this were January, I'd be stir-frying the eggplant and mushrooms, but July insists I use the grill. It's a rushed day so I'll be using gas. If you've the time, smoking the veggies over coals and hardwood would add depth and another layer of flavor to the pungency of eggplant and shiitakes.
I peeled off some of the skin from the graffiti eggplant before grilling; the skin on the last batch of this varietal was tough. If I were grilling some of the Asian varietals, I wouldn't bother.
I wish I'd thought to pick up a tub of tofu. I haven't grilled tofu this summer, but the extra-firm tofus, well-drained, hold up nicely over the heat of a grill. Grilled tofu is particularly yummy if marinated prior to grilling, as you would a piece of meat.
Yield: 3-4 serving
Time: about 45 minutes

Ingredients
1 cup dry brown rice
3 small eggplant (about 5 inches long), peeled
1 tablespoon soy sauce
1 tablespoon sesame oil, plus extra for brushing over eggplant
1 tablespoon rice wine vinegar
1 teaspoon honey
1 teaspoon grated ginger
1/4 cup chopped cilantro
1 red pepper
3 1/2 ounces shiitake mushrooms, woody ends trimmed and gently wiped with damp cloth
Directions
1. Cook rice according to package instructions*.
2. Peel then slice eggplant into 3/4-inch thick rounds. Lay on paper towels or clean cloth and sprinkle with kosher salt. Make a marinade by whisking together soy sauce, sesame oil, rice wine vinegar, honey, ginger and cilantro.
3. Prepare gas or charcoal to medium heat. Place pepper on grill. Place eggplant on grill and brush top side of eggplant with sesame oil. Cook eggplant 5 minutes or until just beginning to soften. Flip, add mushrooms to grill, brush eggplant and mushrooms with marinade, and continue cooking 5 minutes. Flip mushrooms and cook an additional 3 minutes. Remove vegetables when tender, and remove pepper when blackened in large patches and roasted. Let pepper steam in a paper bag, then remove most of blackened skin with fingers. (Washing roasted peppers reduces flavor.)
4. Toss remaining dressing with rice. Serve grilled vegetables over rice.
*I usually cook 1 cup brown rice in 2 1/4 cup of stock for about 40-50 minutes, or until tender, adding more stock if needed.
Looking for a specific recipe? Click here for dinnerFeed's recipe search engine; type the recipe or ingredient into the search box. I am a real-time food writer and photographer posting daily feeds on my website and in the Food & Drink section of AnnArbor.com. You may also e-mail me at peggy@dinnerfeed.com.