concert preview
with video:

Feist bringing music new and old to the Power Center

Posted on Fri, Jun 1, 2012 : 5:12 a.m.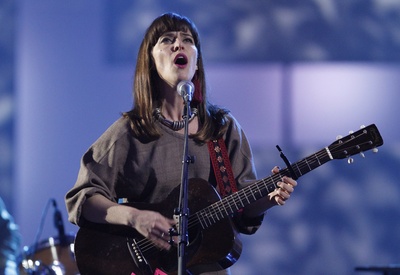 AP

After years of toiling in Canadian semi-obscurity with the collective Broken Social Scene, Leslie Feist became an "overnight" sensation in 2007 upon the release of "The Reminder" and its accompanying super-hit "1234."

But in the hullabaloo that followed her commercial breakthrough—you know, things like international touring and performing with Elmo on "Sesame Street"—the singer-songwriter, known commercially simply known as Feist, took the long way around.

In fact, she took more than a year off from all of it, not even bothering to pick up her guitar or attempt to write a new batch of songs. The resulting tunes—collected on "Metals," which was released late last year and finds the singer sounding edgier—were more than worth the wait.

Feist performs June 5 at the Power Center as part of the Ann Arbor Summer Festival.

"It was like trying to stop a bullet train or a giant lead ball falling from a 100 stories up—it's momentum and it doesn't just stop," she told Pitchfork.com recently. "I drew a line in the calendar and made it a brick wall and just stopped dead. There was no other way.

"I wasn't curious anymore. I had to let myself imagine a calendar with no lines; when every single day is being predetermined six months in advance, there's no more fluidity to time."

For an artist as hot as Feist was in the aftermath of "The Reminder," such a break is virtually unheard of. But Feist said the rigors of touring and the pressure to come up with a viable follow-up to the unexpected success of "The Reminder" necessitated a retreat of sorts.
PREVIEW
Feist
Who: Popular Canadian singer-songwriter. The Low Anthem open.
What: Indie pop.
Where: Power Center, 121 Fletcher St.
When: 8 p.m. Tuesday, June 5.
How much: $30-$50. Tickets available online or from the Michigan League Ticket Office.
So she traveled to Europe and the Middle East, chilled out, and waiting patiently for the desire to play again returned.
It turns out you have to have a life to be able to sing about one.
Every once in a while, she said, she'd tentatively pick up the guitar in the corner, only to realize it wasn't the right time. Then one day, the urge to play returned just as suddenly and unexpectedly as it had gone way. And so did Feist's muse.
And, thus, came the songs for "Metals."
The singer-songwriter's return couldn't come fast enough for Emily Lefler, of Ypsilanti, a poet and self-described "semi-obsessive" Feist fan.
"She just kind of fell off the radar screen for such a long time and I think I was beginning to wonder whether she'd even make another album," Lefler said. "It took a long time, but I guess I should have known she'd be back eventually.
"The new record is maybe a little less accessible, but once you settle into it, it's every bit as good."
According to Feist, that's no coincidence.
"I had no motivation in me to try to get back to that place," she said, referring to the runaway success of "1234. "So I needed to make sure that there wasn't a song on this album that that could happen with."