Posted on
Tue, Aug 6, 2013 : 10:17 a.m.
Father-daughter duo San and Emily Slomovits release CD, plan show at The Ark
By Jennifer Eberbach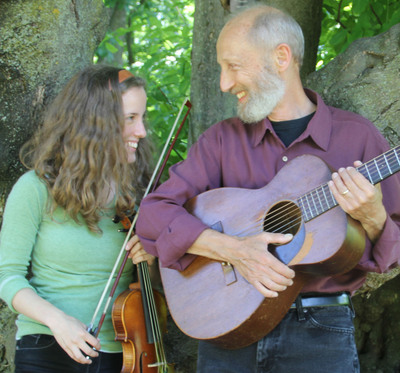 At 19 years old,
Emily Slomovits
is already an old pro at performing music in front of a crowd. The young violinist, soprano singer and guitarist first joined her father,
San Slomovits
, and uncle Laszlo on stage when she was 8 years old. The twin brothers are familiar to multiple generations in Ann Arbor as local children's music duo
Gemini
, as well as solo artists.
Growing up in a musical family, Emily has become a talented, well-trained musician in her own right. Beyond performing with Gemini and other shows with her father, she has performed with string ensembles, done Shakespeare in the Arb, and played from the pit at Performance Network and Encore Musical Theatre Company productions.
This is a big year for the father and daughter. They have released an album together, Emily's very first, titled "Innocent When You Dream."
The 16-track CD features their own arrangements of well-known songs from traditional, folk, jazz, and contemporary music. "Innocent When You Dream" showcases some of their favorite songs to perform together.
San and Emily posted a video on Youtube that features a sampling of songs from the CD.
"All of these songs are ones we've done in concert. We picked things that we are really comfortable with and we really love," Emily says.
The duo will celebrate the release of Emily's recording debut with a show at The Ark on Aug. 10. They will be joined by uncle Laszlo and Emily's lifelong friend Jacob Warren, a classically trained bassist. And Brian Brill, who recorded the album at his Chelsea studio, will be on keys at the show. They all played on the album, as well.
PREVIEW
San and Emily Slomovits
Who: Father-daughter duo including half of well-known local act Gemini.
What: Folk music with jazz and classical flavorings.
Where: The Ark, 316 S. Main St.
When: 8 p.m. Saturday, Aug. 10.
How much: $15. Tickets available from The Ark box office (with no service charge); Michigan Union Ticket Office, 530 S. State St.; or online from the Michigan Union Ticket Office.
From start to finish, Emily's clean soprano vocals ring clear as a bell, with touches of vibrato. Her soprano blends well with San's higher-ranged voice. The folk and traditional feel of their vocals is enhanced by Emily's folk fiddle-style and jazz-style-inspired violin playing, which is also informed by years of classical violin.
Her style is always her own, whether she is singing love ballad "Can't Help Falling in Love" or Spanish song "Gracias a la Vida," which both seem to fit her voice rather well. Her personal vocal style also carries through when she is singing the Tom Waits title track - he is one of the gruffest of the gruff - or other male singers such as Sting, or "Rent" rock ballad "One Song Glory," which she makes her own.
"They aren't songs someone would immediately think of for a voice like mine. With 'One Song Glory,'—a rocker guy with all this angst—I heard the song for what it was. I thought, let's see if I can make it my own and do something different with it," Emily says. She plays guitar on the song, with Warren on bass. It is a song the two of them, friends since Kindergarten at Rudolf Steiner, play together.
A number of the songs come from the large repertoire San has done over the years. The only songs that is not a cover on the album, "Deli," is a song San and Lazslo wrote about Zingerman's Deli, decades ago.
"Where Have All the Flowers Gone" is another that the father and daughter have been doing together for a long time. Emily learned "Minor Swing" from Gabe Bolkosky, her violin teacher and a friend and music collaborator of her father's. And San says Emily is better at "Guantanamera," a song he's done before, because she took Spanish and plans to study languages when she starts at Eastern Michigan University this fall.
Emily also brings songs to her dad's attention. As she has gotten older, their musical partnership has become just that - an equal partnership. So, in the case of the new CD, her musical input was just as integral a part of it as her father's repertoire.
For instance, "Flying Shoes" by country/folk musician Townes Van Zandt is a song that San probably would not have performed if Emily had not fallen in love with it.
San is impressed by his daughter's professionalism. "By now, I've been playing with my brother forever—40 years. And this is as professional a relationship as that. In other words, I don't really think of her as my sidekick. I don't think the audience says, there is the performer and there is his daughter. It's a totally equal kind of relationship, and I really trust her on stage," he says with fatherly pride.
Emily is definitely interested in pursuing music as a career, although the world is open to the in-coming college Freshman. She says performing with her dad "has been good practice."
"If I'm thinking of a solo career some days, it's been great that he has been bringing me up on stage for so long. I've started building skills that I can use," Emily says.
"I never want to push her to do what I do. I've always wanted to create the opportunity for her to have a professional career in music, if that's what she wants to do," he adds.
"I'm definitely interested," Emily reassures her dad.
"I'll be at Eastern, but I'm going to commute from home. One of the motivators of that is, if I'm interested in pursuing a musical career, which I am, this is where I have made friends who are musicians. This is where my family is. I want to try to start it here, if I can," Emily says.