concert preview
with video:

Chart a course toward new music with Ann Arbor group Existential Pilot, at Kerrytown Saturday

Posted on Tue, Apr 20, 2010 : 5:40 a.m.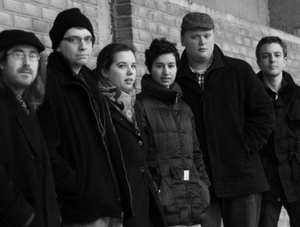 Local audiences will get a chance to check out Ann Arbor's newest music collective, Existential Pilot, Saturday at Kerrytown Concert House.
Ezra Donner, the group's pianist, said their sound is hard to categorize.
"I think the 3 of us in the group who are composers … are all different in some ways. I think in our music you'll hear the influence of classical, jazz, avant-garde, experimental, rock, electronic. That's a deliberate decision on our part.
"I know for myself as a composer, I try to absorb everything, and I hope that people who like any one of those genres will be able to find things to enjoy in my music, and I think we're all pretty much on the same wavelength with that," he said.
Besides Donner, Existential Pilot, founded in 2009, consists of William Zuckerman (composer, pianist, and electronics), Jonathan Lubin (composer, pianist, and electronics), Zoe Aqua (violinist), Mark Dover (clarinetist) and Claire DiVizio (soprano voice).
All are current or former students at the University of Michigan School of Music. Although the group recently toured on the East Coast, with concerts in New York City and Philadelphia, this is its debut Ann Arbor performance. Among the members' teachers/mentors at the U-M are William Bolcom, Bright Sheng, Michael Daugherty and Yehonatan Berick.
They perform original compositions by Donner, Zuckerman and Lubin; some are set to poetry by e.e. cummings and Wallace Stevens.
PREVIEW
Who: Ezra Donner, William Zuckerman. Jonathan Lubin, Zoe Aqua, Mark Dover and Claire DiVizio.
What: Ann Arbor-based new music collective. Created by students and alumni of the University of Michigan, the group is particularly committed to showcasing the talents of young and emerging composers and performers.
Where: Kerrytown Concert House, 415 North Fourth Avenue.
When: Saturday, April 24 at 9:30 p.m.
How much: $10-$25. Reservations at 734-769-2999, the KCH web site or Existential Pilot's web site.
Donner, a Buffalo, N.Y., native, said the idea for the group came in part thanks to the wide variety of guest composers and performers who came through composition seminars at the U-M and who talked about music and their careers.
"I think the 3 people who made the biggest impression on me as far as the idea for this group were (composer) Joan Tower, the group Eighth Blackbird and also the group Time for Three," he added.
"They all were sort of saying the same thing. 'You guys can do what we're doing. You can make your own chamber groups and perform your own music. It's a great way to get exposure.' I think we all were thinking along similar lines, and it's because we have these wonderful, creative people coming through the university telling us about their work and their careers," Donner explained.
Although the group's name sounds a bit exotic, Donner said there's no deep story behind it.
"Bill (Zuckerman) came up with the name. He liked 'existential,' it sounded like we're all thinking guys, which is true. And 'pilot' — I think he liked the idea of moving forward, like intrepid sailors."
Although just starting out, Donner said the group has an eye on its future, which could include recording a debut CD.
"(We are interested in) getting more exposure and getting more Facebook fans. I'm also excited about going to some other cities, maybe Chicago, Denver," Donner added, "although we don't have a huge budget for travel. We'll have to see. Maybe in 5-10 years, I would love to do some international touring. For now I am more than happy to play everywhere in the U.S."
That their New York performance received a critical review on The Big City blog delighted Donner. George Grella wrote that the concert "was a promising and intriguing start for this young group, and if they are proclaiming their existence through the action of making music, then I hope they will continue to proclaim and expand."
"I was thrilled with the comments," said Donner. "It's basically the first time that someone like that has written about my music. I was really glad it wasn't 100 percent complimentary because you know that it means he was really writing what he thought, he wasn't trying to sugarcoat things. When he does give us praise it makes it all the more worthwhile. I could tell he really understood what we're trying to do."
Watch a video preview of the concert produced by KCH:

Roger LeLievre is a freelance writer who covers music for AnnArbor.com.