play preview
Purple Rose Theatre explores friendship with 'Superior Donuts'
Posted on Wed, Sep 19, 2012 : 5:59 a.m.
Related story: Q and A with Randolph Mantooth on "Emergency!" and much more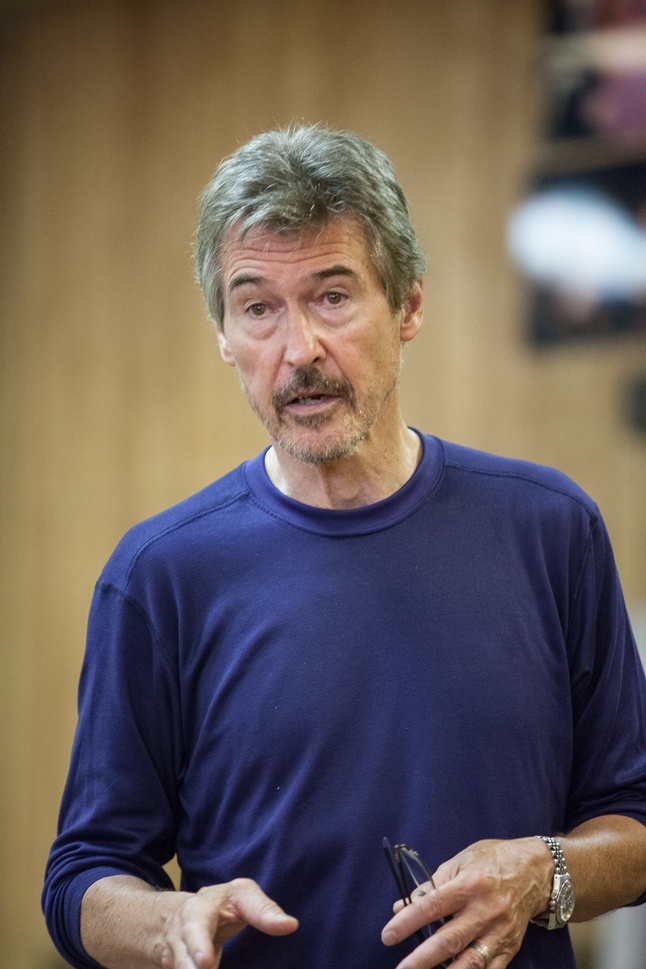 Photo by Sean Carter Photography

Actor Randolph Mantooth is best known for the 1970s television show he starred in early in his career, "Emergency!", as handsome, young paramedic John Gage.

Recently, though, Mantooth sat in the Purple Rose Theatre's conference room in Chelsea and checked out wig swatches, since the actor needs to sport a ponytail that matches his now-silver hair while starring in the Rose's production of Tracy Letts' "Superior Donuts."

"At first, nothing appealed to me (about the role)," said Mantooth, who plays Arthur, an aging former political activist who runs a dilapidated Chicago doughnut shop. "I didn't think I was right for it. It was hard for me to connect to him at first. But then I realized that the reason why I didn't connect with the role is because he's like me. … Once I got over the fear of that, then I embraced it."

In what ways specifically does Mantooth see himself in Arthur?

"My wife nails it right on the head when she says, 'You can be that guy that goes up to the top of the hill, shuts the gate, and won't let anybody in. That's easy for you to do,'" said Mantooth. "Whereas my wife is absolutely the opposite. And I think that's why we love each other, is that she keeps pulling me into the light, and I keep stepping out into the shadows. I'm comfortable there, because I like to observe, and so does Arthur. … Arthur arguably could stand in the middle of a hurricane and calmly watch the destruction all around him. It doesn't mean he's not touched by it. It just means he doesn't react to it. And I see that in me."
PREVIEW
"Superior Donuts"
Who: Purple Rose Theatre Company.
What: Tracy Letts' comedy about an aging '60s political activist who runs a dilapidated doughnut shop in Chicago and develops an unlikely friendship with a new, young employee. (The play contains adult language and content.)
Where: Purple Rose Theatre, 137 Park St. in Chelsea.
When: Wednesday at 3 and 8 p.m.; Thursday-Friday at 8 p.m.; Saturday at 3 and 8 p.m.; and Sunday at 2 p.m., September 20-December 15. (Previews run Sept. 20-27.)
How much: $18.50-$42. (Discounted previews $22-$32.) For tickets, call 734-433-7673, or visit www.purplerosetheatre.org.
Letts—who won a Pulitzer Prize and a Tony Award for the family drama "August: Osage County"—and the Chicago-based Steppenwolf Theatre Company premiered the play in 2008, and the show ran for a few months on Broadway in 2009.
The heart of "Superior Donuts" is the unlikely friendship that develops between Arthur and his new, young, African-American employee, Franco (Brian Marable).
"I think Arthur sees in Franco, this young kid—I think he sees himself as a kid," said Mantooth. "He sees the mistakes that he's made. Not that he's taking on the role of a father, … but he sees himself as a child again, and it scares him."
"It's very much a story about a man who finds the courage to become a friend," said director Guy Sanville. "It gets me in rehearsal every time, I just practically lose it, when Randy looks at Alex (Leydenfrost) and says, 'You don't get to hurt my friend.' It just kills me. That, to me, in many ways is the climax of the play. And the play is full of wonderful confessions. We approach this doughnut shop as a kind of sanctuary. Arthur can just disappear in this hurricane, but he just draws these confessions out of people. I don't know if he always knows what to do with that. But he's an excellent listener."
Sanville's working relationship with Mantooth began nearly 10 years ago, when the PRTC was preparing to transfer its 2001 world premiere production of Lanford Wilson's "Rain Dance" to the Off-Broadway Signature Theatre in New York.
At that time, Sanville traveled to Los Angeles to audition actors for "Rain Dance," and stars from shows like "Star Trek: Voyager" and "Northern Exposure" answered the call. But the one Sanville couldn't shake was Mantooth.
"The first person that I auditioned was Randy," Sanville said, turning to address Mantooth directly. " … I can still remember what you were wearing, in fact. … I asked you to do a couple of things, and you didn't look at me like I was an idiot. I saw a lot of actors over three days. … And I just kept going back to Randy."
The two worked well together while preparing "Rain Dance" for its Off-Broadway debut, so when Sanville found himself charmed by "Superior Donuts" during an in-house reading last year, he "immediately thought of Randy as Arthur."
"He doesn't spin anything, he just tells the truth," said Sanville. "He's up there, and what you see is what you get. That sounds easy, but it's really hard. You have to teach people how to do that. He's the first person who popped into my head."