event preview
Popular Dexter Daze, celebrating its 40th anniversary this weekend, reunites generations
Posted on Mon, Aug 6, 2012 : 5:09 a.m.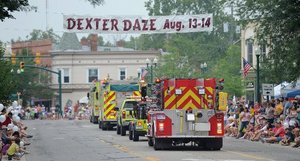 AnnArbor.com file photo

Anyone who thinks Dexter Daze is just another run-of-the-mill community festival may have underestimated the appeal of this annual celebration. Dexter's biggest annual party routinely draws huge crowds, and this year's 40th anniversary event should be no different.

It's the kind of gathering where just about everybody knows just about everybody else.

"We often say it's a multi-class reunion," said Dexter Daze organizer/publicist Laurie Kokmeyer. "Every time you go there - especially at the social tents - you get to see people from all different generations. You run into your friend's parents, you run into your friend's children, you run into your friends."

Dexter Daze, Friday and Saturday, includes a parade, entertainment, more than 100 artists and artisan booths, a chicken barbecue, the always-popular social tent, tours of historic Gordon Hall and plenty of activities for kids. Laith Al-Saadi is the headline musical guest Friday, while the RFD Boys play Saturday.
PREVIEW
Dexter Daze
Who: Dexter Chamber of Commerce, downtown merchants.
What: 40th anniversary of this annual, family-themed community celebration includes a parade (10 a.m. Saturday), entertainment, music, artists and artisans and more.
Where: Downtown Dexter.
When: 9 a.m.-11 p.m. Friday-Saturday, Aug. 10-11.
How much: Free. Complete schedule at www.dexterdaze.org.
Raffles sponsored by the Dexter Rotary Club and the Dexter Kiwanis Club will benefit Dexter High School scholarships and other community projects. The Rotary Club's raffle offers a playhouse that's a replica of a home found in the village. Grand Prize in the Kiwanis Club raffle this year is $10,000.
Although it's hard to tell how many people attend, since no tickets are sold, "for sure it's Dexter's biggest event," Kokmeyer said. "Every year it seems to get bigger."
Leading Saturday's parade as Grand Marshals will be Dexter Daze originators Elaine Owsley and Nancy McLeod.
"I think they've done a really good job," Owsley said. "It's less countrified, more artsy-craftsy commercial than it was in the beginning. But now, as long as you've still got people who want to come, you're doing the right thing."
Prior to 1971, Dexter Daze was known as Sidewalk Days, and local merchants displayed their goods on the sidewalk in front of their businesses. In 1972, Owsley and McLeod began chairing the first Discover Dexter Days for the Dexter Chamber of Commerce. In 1974, Dexter's Sesquicentennial replaced Discover Dexter Days and the festival greatly enlarged. From 1975 until now, Dexter Daze has occurred every year.
"I think that first year we had a pie-eating contest," Owsley recalled. "We told the merchants they had to put something respectable out on the streets, not just junk. We had square dancing in the bank parking lot, we had a dog show—just little country town stuff."
She said that the family-friendly atmosphere is key to the appeal of Dexter Daze.
"I think that's the charm of it. It's a safe, fun place to be, rather than something that's a little wilder," Osley added. "It's not the kind of entertainment that appeals to almost anybody but families. It's a good safe place."
A ribbon-cutting ceremony for the new Mill Creek Park will be held at the corner of Main and Jeffords streets Saturday immediately following the parade.