russ collins column
cinema chat:

'Looper,' 'Won't Back Down,' midnight 'Ghost World' and more at the movies this week

Posted on Thu, Sep 27, 2012 : 5:12 a.m.
Opening at the cineplex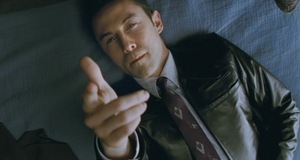 TriStar Pictures

"Looper," a sci-fi thriller starring Joseph Gordon-Levitt, Bruce Willis and Washtenaw County's own Jeff Daniels, is set in the near future when time travel has been invented—but it is illegal and only available on the black market. When the mob wants to get rid of someone, they send their target into the past, where a "looper"—a time-travelling hired gun—liquidates the target. Peter Debruge of Variety says that Writer/Director Rian Johnson's "grandly conceived, impressively mounted third feature shows a giddy, geeky interest in science-fiction, then forces it into the back seat and lets the multidimensional characters drive." The films also stars Emily Blunt and Paul Dano. "Looper" opens Friday.

In "Hotel Transylvania," Dracula (Adam Sandler) opens a lavish "five-stake" resort, where monsters and their families can live it up, because no humans are around to bother them. On one special weekend, Dracula has invited some of the world's most famous monsters—Frankenstein and his bride, the Mummy, the Invisible Man, a family of werewolves, and more—to celebrate his daughter Mavis' 118th birthday. For Drac, catering to all of these legendary monsters is no problem—but his world could come crashing down when one ordinary guy stumbles into his hotel and takes a shine to Mavis. "Hotel Transylvania" opens Friday.

"Won't Back Down," starring Maggie Gyllenhaal and Viola Davis, follows two determined mothers—one a teacher—who will stop at nothing to transform their children's failing inner-city school. Facing a powerful and entrenched bureaucracy, they risk everything to make a difference in the education and future of their children. This powerful story of parenthood, friendship and courage mirrors events that are making headlines daily. "Won't Back Down" opens Friday.

"The Master" is a smart, powerfully acted, beautifully filmed, and solidly engrossing film by writer/director Paul Thomas Anderson. A challenging film for serious audiences, it is a striking portrait of drifters and seekers in post-World War II America. The film unfolds as the journey of a naval veteran (Joaquin Phoenix) who arrives home from war unsettled and uncertain of his future—until he is tantalized by The Cause and its charismatic leader (Philip Seymour Hoffman). My favorite critic, Kenneth Turan of the Los Angeles Times, says "['The Master' is] bristling with vivid moments and unbeatable acting, but its interest is not in tidy narrative satisfactions but rather the excesses and extremes of human behavior, the interplay of troubled souls desperate to find their footing." Now playing our local multiplexes.

There are still quite a few great films to check out downtown!

"Detropia" is an acclaimed documentary that profiles the difficulties and potentials of Detroit. "Sleepwalk With Me" stars comedian-turned-playwright-turned-filmmaker Mike Birbiglia in a highly enjoyable autobiographically comedy. Both films continue at the Michigan.

Special screenings downtown

The Agnieszka Holland film series continues tonight with "Secret Garden" at 7:30. The film is based on Frances Hodgson Burnett's enchanting classic children's story about a young girl who brings an English country house's garden—and the people it touches-magically back to life.

Three Corpse Circus, Ann Arbor's international short horror film festival, is back for its third year! Bringing you a wide variety of shorts from across the globe, as well as local offerings, the festival will showcase films that encompass the various subgenres that horror brings, including comedy, psychological, supernatural, thriller, and more. The Three Corpse Circus plays Saturday, Sept. 29 at 7:30 and 9:30 p.m.

"Ghost World," based on the comics of Dan Clowes, examines the lives of two young women on the verge of leaving their adolescence behind. Thora Birch and Scarlett Johansson star in this cult classic. "Ghost World" plays on Saturday at 11:59 PM at the State Theatre.

"The Giant Mechanical Man," part of the Motor City Movies: Discovering Detroit Film Series, follows Janice (Jenna Fischer) as she struggles to find her way and build a fulfilling life for herself. When she meets Tim (Chris Messina), a street performer whose unique talents as a "living statue" don't exactly pay the bills, she recognizes a kindred spirit. "The Giant Mechanical Man" plays on Monday, October 1 at 7 p.m.

The Manhattan Short Film Festival returns to Ann Arbor! An extraordinary global event when over 100,000 people in over 300 cities across six continents gather in cinemas, galleries, universities, museums and cafes during the week of Sept. 28 - Oct. 7 for one purpose: to view and vote on the Finalists' Films in the Annual Manhattan Short Film Festival. Upon entry at all participating venues, festival attendees are handed a voting card and an official program and asked to vote for the ONE Film they feel should win. Votes are tallied by each host venue then emailed to our NYC headquarters. The Manhattan Short Film Festival plays Thursday, Oct. 4 at 7:30 p.m.

See you at the movies!