russ collins column
cinema chat:

'Alex Cross,' 'Blair Witch Project,' classic 'Nosferatu' and more at the movies this week

Posted on Thu, Oct 18, 2012 : 5:36 a.m.
Opening at the multiplex
"Alex Cross" follows the homicide detective/psychologist (Tyler Perry) as he meets his match in a serial killer (Matthew Fox). The two face off in a high-stakes game of cat and mouse, but when the mission gets personal, Cross is pushed to the edge of his moral and psychological limits in this taut and exciting action thriller. "Alex Cross" opens Friday.
The horror franchise "Paranormal Activity 4" picks up five years after the disappearance of Katie and Hunter, when a suburban family witnesses strange events in their neighborhood after a woman and mysterious child move in. "Paranormal Activity 4" opens Friday.
Opening downtown
"The Master" is a smart, powerfully acted, beautifully filmed, and solidly engrossing film by writer/director Paul Thomas Anderson. A challenging film for serious audiences, it is a striking portrait of drifters and seekers in post-World War II America. The film unfolds as the journey of a naval veteran (Joaquin Phoenix) who arrives home from war unsettled and uncertain of his future—until he is tantalized by The Cause and its charismatic leader (Philip Seymour Hoffman). My favorite critic, Kenneth Turan of the Los Angeles Times, says "['The Master' is] bristling with vivid moments and unbeatable acting, but its interest is not in tidy narrative satisfactions but rather the excesses and extremes of human behavior, the interplay of troubled souls desperate to find their footing." "The Master" opens Friday at the State Theatre.
"2 Days in New York" finds Marion and Mingus living cozily - perhaps too cozily - with their cat and two young children from previous relationships. However, when Marion's jolly father (played by director Delpy's real-life dad), her oversexed sister, and her sister's outrageous boyfriend unceremoniously descend upon them for a visit, it initiates two unforgettable days that will test Marion and Mingus's relationship. With their unwitting racism and sexual frankness, the French triumvirate hilariously has no boundaries or filters. And no person is left unscathed in its wake. Steven Rea of the Philadelpha Inqurier says, " (the film) finds its comedy in the familiar annoyances of urban life and in the conflict between parents and siblings, but also in bigger, kookier, existential quandaries." "2 Days in New York" opens Friday at the Michigan Theater.
"Stars in Shorts" is a collection of short films featuring some of the world's biggest actors. Judi Dench is a neophyte in the complicated landscape of internet dating in "Friend Request Pending." Colin Firth is an unusually needy neighbor to Keira Knightley in "Steve." Lily Tomlin gets lost on her way to a funeral in "Procession." Jason Alexander is a screenwriter at the end of his rope in the musical short "Not Your Time." Also including short films starring Kenneth Branagh, Julia Stiles, Sarah Paulson, Jesse Tyler Ferguson and others. "Stars in Shorts" plays Tuesday and Wednesday, Oct. 23 and 24, at the Michigan Theater.
Special screenings downtown
The Motor City Movies: Discovering Detroit series continues with a double feature of "Roger & Me," Michael Moore's wickedly iconoclastic documentary, and "Blue Collar," Paul Schrader's directorial debut that examines the trials of Detroit autoworkers living at the mercy of a heartless corporation and a corrupt union starring Richard Pryor and Harvey Keitel. "Roger & Me" plays at 7 p.m. and "Blue Collar" plays at 8:45 p.m. at the Michigan Theater on Monday, Oct. 22.
"The Blair Witch Project" combines Hi-8 video with black-and-white 16 mm film, to present a straightforward documentary explaining that in 1994, three students went into the Maryland back woods to do a film project on the Blair Witch incidents. These kids were never seen again, and the film you are about to see is from their recovered equipment, found in the woods a year later. A film that many credit with mainstreaming the "Found Footage" genre, "The Blair Witch Project" plays Saturday, October 20 at 11:59 p.m. at the State Theatre.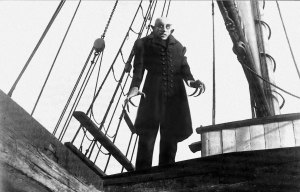 An Ann Arbor tradition continues with
"Nosferatu"
! The film is about a real estate agent (Gustav von Wangenheim) who begins conducting business with the eerie Count Orlok (the beyond-creepy Max Schreck), who goes on a rampage when he becomes obsessed with the man's beautiful wife. This very special presentation will feature live accompaniment on the Michigan Theater's grand Barton Organ by the Michigan's gifted organist, Dr. Steven Ball. Roger Ebert said it best: "It doesn't scare us, but it haunts us. It shows not that vampires can jump out of shadows, but that evil can grow there, nourished on death." "Nosferatu" plays Thursday, Oct. 25 at 8 p.m. at the Michigan Theater.
Oliver Stone makes an appearance at the Michigan Theater on Thursday, October 25 at 5:10 p.m. as part of the Penny Stamps lecture series. Undoubtedly one of the most controversial directors in Hollywood, Stone has made films that are remarkable for both the way in which their subject matter is handled and the degree of controversy such handling inspires.
See you at the movies!