Posted on
Thu, May 2, 2013 : 5:44 a.m.
'Iron Man 3,' classic 'Laura,' and get your tickets now for 'Gatsby' premiere
By Russ Collins
Redford's "The Company You Keep" is a hit in Ann Arbor
Part of Robert Redford's new film "The Company Your Keep" is set in Ann Arbor; however, the movie was not shot in Ann Arbor. In fact, the only actual Ann Arbor building seen in the movie is the University of Michigan's Graduate Library, which is used in the movie as a University of Chicago classroom building. Despite the geographic confusion, audiences are loving this star-studded drama about former 1960s radicals on the run from the FBI. Don't miss it! Playing at the Michigan Theater until May 9.
The Jewish Film Festival returns to Ann Arbor
The Jewish Film Festival is an annual event celebrating the impact and influence of Jewish culture on current movies and filmmakers. It also provides a forum for discussion about films from around the world that illuminate Jewish issues and principles. Whether you are Jewish or not, this film festival has something for everyone to see and enjoy.
The opening night film on Sunday, May 5 at 8 p.m. is "Hava Nigila," an uplifting documentary that explores why this one song means so much to so many around the world. Whether you know this song from grade school choir, summer camp, a sporting event, a wedding or somewhere else, it seems that everyone knows this catchy melody. But where did it come from? Featuring interviews with Harry Belafonte, Leonard Nimoy, Connie Francis, and Glen Campbell, as well as performances of the song by Danny Kaye, Bob Dylan, Lena Horne, Regina Spektor and Chubby Checker. The Jewish Film Festival of Ann Arbor runs from May 5 to May 9 at the Michigan Theater. More information can be found at www.jccannarbor.org/cultural-arts-education/jewish-film-festival/
Opening downtown
"Upstream Color" is the darling of cineastes all over the world. It is about a man and woman who are drawn together, entangled in the life cycle of an ageless organism. Identity becomes an illusion as they struggle to assemble the loose fragments of wrecked lives. Directed by Shane Carruth ("Primer") and premiering at the Sundance Film Festival, the film is a Lynchian exercise in experimental filmmaking that Manohla Dargis of the New York Times called "A deeply sincere, elliptical movie about being and nature, men and women, self and other, worms and pigs..." Jeff Meyers of the MetroTimes is also a fan, saying "Its plot isn't particularly complicated, but it is undeniably weird. If you accept the movie on its own terms, you'll feel like you've been pulled into a creepy yet compelling dream." "Upstream Color" opens Saturday, May 4 at the Michigan Theater.
Opening at the multiplex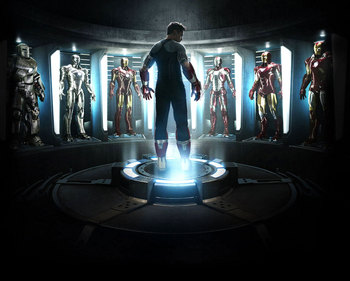 "Iron Man 3"
pits brilliant industrialist Tony Stark/Iron Man against an enemy whose reach knows no bounds. When Stark finds his personal world destroyed at his enemy's hands, he embarks on a harrowing quest to find those responsible. With his back against the wall, Stark is left to survive by his own devices, relying on his ingenuity and instincts to protect those closest to him. Todd McCarthy of the Hollywood Reporter says, "(Robert) Downey is at his superhero genius best here, rattling off dialogue both clever and boilerplate with non-repetitive aplomb." "Iron Man 3" opens tonight at midnight.
Special screenings
In Otto Preminger's "Laura," Detective Mark McPherson investigates the killing of Laura, found dead on her apartment floor. "Laura" plays on tonight at 7 p.m. Shown in honor of the Michigan Theater's hero and organ curator Henry Aldridge, to celebrate his retirement as a professor of media arts studies at Eastern Michigan University.
"The Great Gatsby" returns to screens
Set in 1922, the sparkling remake of "The Great Gatsby,"—starring Leonardo DiCaprio, Tobey Maguire, Carey Mulligan and Jason Clarke—will open the Cannes Film Festival. Director Baz Luhrmann's latest version of this classic novel will play in Ann Arbor's own 1920s movie palace - it will be spectacular blend of movie art and architecture! The Michigan Theater is pleased to bring screenings of "The Great Gatsby" in both 3D and 2D to downtown Ann Arbor, with a special opening night screening featuring a lobby set from The Appleseed Collective, special 1920s-inspired cocktails, and other period-appropriate revelry (including a Betty Boop cartoon)! "The Great Gatsby" opens May 10. Advanced tickets are now on sale; visit www.michtheater.org for details.
Cinetopia International Film Festival
Things are heating up at the Michigan Theater in advance of Cinetopia 2013. Whether it's Venice Film Festival favorite "Fill The Void," the world premiere of "A Tribute to Ron Asheton featuring Iggy and the Stooges" filmed live at the Michigan Theater, the North American premiere of "Body Fat Index of Love," a love letter to Star Wars and movie making "5/25/77," or the powerful documentary "After Tiller," Cinetopia 2013 has something for you! Passes and tickets are available now at www.cinetopiafestival.org.
Russ Collins is executive director of the Michigan Theater in Ann Arbor. Tune in to the audio version of "Cinema Chat" on WEMU radio (89.1-FM) each Thursday at 7:40 a.m. and 5:40 p.m., or listen to it online at WEMU's web site.