russ collins column
cinema chat:

'Magic Mike,' Mark Wahlberg in 'Ted,' midnight 'Scarface,' and more

Posted on Thu, Jun 28, 2012 : 5:49 a.m.
Win free movie tickets

Editor's note: Comment on today's "Cinema Chat" for a chance to win free movie tickets to the Michigan Theater. Some time between now and 9 a.m. Monday, leave a comment on this column. Offer your opinion on a recent movie you've seen, or on anything the column mentions. A winner will be randomly selected, and we'll notify that person via the email address they signed up with. They will get two passes to a movie of their choice, courtesy of The Michigan Theater. Full rules here.

Note: This week's "Cinema Chat was" prepared by Amanda Bynum and Brian Hunter, the film programming team at the Michigan Theater.

Opening downtown
"Safety Not Guaranteed," winner of the Waldo Salt screenwriting award at the 2012 Sundance Film Festival, takes its inspiration from an unusual classified ad. Aubrey Plaza stars as one of three cynical Seattle magazine employees who search out whomever it was that placed a mysterious ad for time travel in a local paper. They soon discover a mysterious eccentric named Kenneth (Mark Duplass), a likable but paranoid supermarket clerk, who believes he's solved the riddle of time travel and intends to depart again soon. Elizabeth Weitzman of the New York Daily News says, "Delightful proof that money and fame have nothing on ingenuity and wit, 'Safety Not Guaranteed' is worth a million meaningless blockbusters - even if it cost millions less than any one of them." "Safety Not Guaranteed" opens Friday at the Michigan Theater.
In "Lola Versus," Greta Gerwig plays Lola, a 29-year-old woman dumped by her longtime boyfriend Luke (Joel Kinnaman) just three weeks before their wedding. With the help of her close friends Henry (Hamish Linklater) and Alice (Zoe Lister-Jones), Lola embarks on a series of desperate encounters in an attempt to find her place in the world as a single woman approaching 30. Colin Covert of the Minneapolis Star Tribune says, "'Lola Versus' takes the Lego-piece building blocks of a New York City relationship comedy and turns it into something more asymmetrical and ironic and interesting." "Lola Versus" opens Friday at the State Theatre.
Opening at the multiplex
Set in the world of male strippers, "Magic Mike" is directed by Steven Soderbergh and stars Channing Tatum in a story inspired by his real life. The film follows Mike (Tatum) as he takes a young dancer called The Kid (Alex Pettyfer) under his wing and schools him in the fine arts of partying, picking up women, and making easy money. The film also stars Matthew McConaughey, Cody Horn, Joe Manganiello and Matt Bomer. Peter Debruge of Variety says, "Tatum, Soderbergh and team appreciate the real reason audiences showed up, and the film provides just enough character and plot to validate the plentiful pecs and abundant buns that serve as its main attraction." "Magic Mike" opens Friday.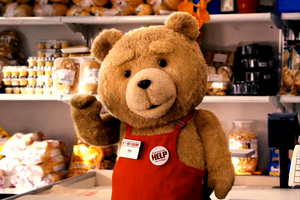 "Ted,"
from "Family Guy" creator
Seth MacFarlane
, tells the story of John Bennett (
Mark Wahlberg
), a grown man who must deal with the cherished teddy bear who came to life as the result of a childhood wish... and has refused to leave his side ever since. "Ted" opens Friday.
"People Like Us," a family drama/comedy inspired by true events, stars Chris Pine ("Star Trek") as Sam, a twenty-something, fast-talking salesman, whose latest deal collapses on the day he learns that his father has suddenly died. Against his wishes, Sam is called home, where he must put his father's estate in order and reconnect with his estranged family. In the course of fulfilling his father's last wishes, Sam uncovers a startling secret that turns his entire world upside down: He has a 30-year-old sister. "People Like Us" opens Friday.
"Madea's Witness Protection" follows George Needleman (Eugene Levy), a CFO who learns that his firm has been operating a mob-backed Ponzi scheme—and that he's been set up as the fall guy. Facing criminal charges and death threats from the mob, George and his entire family are put under witness protection in the safest place that Brian, a federal prosecutor from Atlanta, can think of... His Aunt Madea's house down South. "Madea's Witness Protection" opens Friday.
Special Screenings
"Scarface"—starring Academy Award winner Al Pacino in an unforgettable performance as one of the most ruthless gangsters ever depicted on film and co-starring Michelle Pfeiffer—is the rags-to-riches story of Cuban immigrant Tony "Scarface" Montana, who finds wealth, power and passion beyond his wildest dreams…at a price he never imagined. From acclaimed director Brian De Palma and Oscar-winning writer Oliver Stone. "Scarface" plays Saturday, June 30 at 11:59 p.m.
"M*A*S*H" depicts the hijinks of a unit of medical personnel stationed at a Mobile Army Surgical Hospital during the Korean War and stars Donald Sutherland, Elliott Gould, Sally Kellerman, and Robert Duvall. Directed by Robert Altman, the film established him as one of the leading figures of Hollywood's new generation of inventive young filmmakers. "M*A*S*H" plays Sunday, July 1 at 1:30 p.m. and Tuesday, July 3 at 7 p.m. at the Michigan Theater.
The Ann Arbor Summer Festival presents Cinematic Titanic, the feature-length movie riffing show from the creator and original cast of Mystery Science Theater 3000. Enjoy the cast's riffing on "Rattlers" (6 p.m.) and the world premiere riff of "The Doll Squad" (9 p.m.) on Thursday, July 5 at the Michigan Theater.
See you at the movies!