russ collins column
cinema chat:

Art Fair escapes, a new Batman, a silent classic, and more at the movies this week

Posted on Thu, Jul 19, 2012 : 5:24 a.m.
Win free movie tickets

Editor's note: Comment on today's "Cinema Chat" for a chance to win free movie tickets to the Michigan Theater. Some time between now and 9 a.m. Monday, leave a comment on this column. Offer your opinion on a recent movie you've seen, or on anything the column mentions. A winner will be randomly selected, and we'll notify that person via the email address they signed up with. They will get two passes to a movie of their choice, courtesy of The Michigan Theater. Full rules here.

"Cinema Chat" was prepared by Amanda Bynum and Brian Hunter, the film programming team at the Michigan Theater.
Art Fair
With Ann Arbor's Art Fair under way, it's a good time to get downtown - and check out some movies! If you're downtown and looking for a way to beat the heat, stop by the Michigan Theater and see an organ concert at 1:30 every day during art fair, grab a beer and a bratwurst from our concession tent, and relax in a 1928 movie palace!
Opening at the multiplex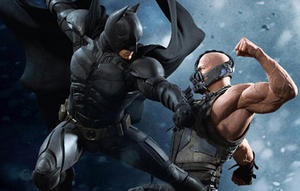 In
"The Dark Knight Rises,"
it has been eight years since Batman vanished into the night, turning, in that instant, from hero to fugitive. Assuming the blame for the death of D.A. Harvey Dent, the Dark Knight sacrificed everything for what he and Commissioner Gordon both hoped was the greater good. For a time the lie worked - but everything will change with the arrival of a cunning cat burglar with a mysterious agenda. Far more dangerous, however, is the emergence of Bane, a masked terrorist whose ruthless plans for Gotham drive Batman out of his self-imposed exile. But even if he dons the cape and cowl again, Batman may be no match for Bane. Todd McCarthy of the Hollywood Reporter says, "Big-time Hollywood filmmaking at its most massively accomplished, this last installment of Christopher Nolan's Batman trilogy makes everything in the rival Marvel universe look thoroughly silly and childish." "The Dark Knight Rises" opens Friday.
Opening downtown
In case you missed it at the Cinetopia International Film Festival, "Headhunters," adapted from Jo Nesbo's best-selling thriller, returns downtown! "Headhunters" stars the talented Aksel Hennie as Roger, a charming scoundrel and Norway's most accomplished headhunter. Roger is living a life of luxury well beyond his means, and stealing art to subsidize his expensive lifestyle. When his beautiful gallery owner wife introduces him to a former mercenary in the possession of an extremely valuable painting, he decides to risk it all to get his hands on it, and in doing so discovers something which makes him a hunted man. Bob Mondello from NPR says, "The film has some fairly grisly violence, but also considerable humor and the sort of intricate, thought-through storytelling you'd expect from Hitchcock or the Coen brothers." "Headhunters" opens Friday at the Michigan. Special screenings downtown
"Sunrise," considered by many to be the finest silent film ever made by a Hollywood studio, represents the art of the wordless cinema at its zenith. The film takes place in a colorful farming community, where people from the city regularly take their weekend holidays. When a happily married local farmer falls under the seductive spell of a temptress from The City, he callously ignores his wife and child and strips his farm of its wealth on her behalf, but even this fails to satisfy her. One foggy evening, when the two meet at their usual swampland trysting place, she bewitches him with stories about the city — its jazz, its bright lights, its erotic excitement. Thrilled at the prospect of running off together, the farmer stops short: "What about my wife?" Roger Ebert of the Chicago Sun-Times says, "F.W. Murnau's 'Sunrise' conquered time and gravity with a freedom that was startling to its first audiences. To see it today is to be astonished by the boldness of its visual experimentation." "Sunrise" plays Sunday, July 22 at 1:30 p.m. and Tuesday, July 24 at 7 p.m. The film is presented from a new 35mm print with live organ accompaniment.
Looking ahead at Summer Classics
"Mary Poppins" will be at the Michigan Theater July 29 and 31! The film adaptation of the Mary Poppins books by P.L. Travers tells the story of the Edwardian-era British Banks family: banker father (David Tomlinson), suffragette mother (Glynis Johns), and two "impossible" children (Karen Dotrice and Matthew Garber). The kids get the attention of their all-business father by bedevilling every new nanny in the Banks household. Magical Mary Poppins (Julie Andrews in an Academy Award-winner role) answers the Banks family's advertisement for a new nanny. These singalong screenings will feature a costume parade, goodie bags, on-screen lyrics and more!
"Jaws," based on Peter Benchley's best-selling novel, is Steven Spielberg's 1975 shark saga that set the standard for the New Hollywood popcorn blockbuster while frightening millions of moviegoers out of the water. One early summer night on fictional Atlantic resort Amity Island, Chrissie decides to take a moonlight skinny dip while her friends party on the beach. Yanked suddenly below the ocean surface, she never returns. When pieces of her wash ashore, Police Chief Brody (Roy Scheider) suspects the worst, but Mayor Vaughn (Murray Hamilton), mindful of the lucrative tourist trade and the approaching July 4th holiday, refuses to put the island on a business-killing shark alert. "Jaws" plays Sunday, August 5 at 1:30 and Tuesday, August 7 at 7 p.m.
See you at the movies!