Children's Theatre Network presenting 'Jamie and Jordan'
Posted on Thu, Apr 26, 2012 : 6:57 a.m.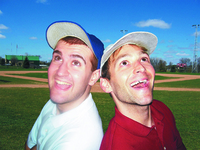 This spring, Performance Network Theatre's educational outreach program, the Children's Theatre Network, will present the musical comedy "Jamie and Jordan" on Saturday, April 28 at 1 p.m., as part of the Saturday Series for Young Audiences.

Born in the same hospital on the same day, neighbors Jamie and Jordan are lifelong best friends until a twist of fate (and an ankle) separates them. This hilarious musical tale teaches children about the importance of a healthy lifestyle and healthy friendship—both important for long lasting happiness.

"Jamie and Jordan" features book and lyrics by Kim Carney, with music by Gene Gaunt. Tickets - $10 for adults, $7 for children -Â are available online (www.performancenetwork.org), over the phone (734-663-0681) or in person at PNT, at 120 E. Huron St.

Children's Theatre Network is a touring program dedicated to awakening the creativity, intellect and compassion of our youth through the power and fun of live performance. Performance Network presents each of the productions one Saturday a month on its Main Stage for local families.