with video:

Carriage House Theatre presents 'Office Hours,' by Ann Arbor's Griffin Johnson

Posted on Wed, Jul 25, 2012 : 6:18 a.m.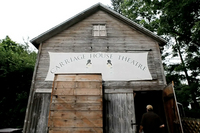 The Carriage House Theatre, at 541 Third St., is now presenting a new play written and directed by Ann Arborite Griffin Johnson called "Office Hours," with showtimes July 26-28 at 8 p.m., July 29 at 2 p.m., and August 2-4 at 8 p.m.

In the play, Professor Stephen Steinway, chair of a financially troubled college's philosophy department, has kept his department afloat in spite of lazy undergrads, Machiavellian grad students, ham-handed administration, and the looming menace of romance - which is why it feels so unfair when he discovers that the department is being sold to a mysterious financial corporation and its sociopathic CEO. As Professor Steinway struggles to keep the sludge of business out of his ivory tower, his well-kept department quickly goes mad around him in a caustic black comedy about love, language, politics, fish, and whether it's ever safe to cast the first stone when you call someone a parasite.

$10 is the suggested donation for CHT performances, but there are no tickets or reservations. The house opens fifteen minutes prior to the beginning of every show, and seats are first come, first served. If you are travelling from a significant distance for one performance or otherwise need special accommodations to insure that you will be able to see the show, please send a message to CHTheatreA2@gmail.com.

To learn more about CHT, and get a glimpse of the company's most recent production (Sam Shepard's "Buried Child"), check out this video.