play preview
Carla Milarch returns to Performance Network's stage for 'The Glass Menagerie'
Posted on Mon, Sep 24, 2012 : 5:08 a.m.
After working behind the scenes, as an administrator and director (among other roles), for five years, Performance Network's associate artistic director Carla Milarch is returning to the stage.
But she's not exactly tiptoeing her way back with a supporting role in an obscure drama ("I'm not good at tiptoeing," Milarch said). No, Milarch will play one of the most iconic female roles in American drama: Amanda Wingfield in Tennessee Williams' classic, 68-year-old play "The Glass Menagerie."
"There was talk about my returning to stage, and we felt that if that was going to happen, it needed to be a significant role," Milarch explained. "We also realized that this year marks the 10-year anniversary of when we did our production of 'A Streetcar Named Desire' … (in which Milarch played Blanche). With my new position—I was executive director for five years, and then when we made the decision to move me back over to the artistic department, a large part of that decision was the fact that I was bereft of my acting, and I just missed it so much."
Last seen on stage in the Network's 2007 production of "Dirty Blonde," in which she played Mae West, Milarch has found her return to acting to be exhilarating if, at times, challenging.
PREVIEW
"The Glass Menagerie"
Who: Performance Network.
What: Tennessee Williams' classic drama about an aging Southern belle who will stop at nothing to find a husband for her painfully shy daughter, Laura, who still lives at home with her brother, Tom, a would-be writer working in a shoe factory.
Where: Performance Network Theatre, at 120 E. Huron St. in Ann Arbor.
When: Thursday at 7:30 p.m., Friday-Saturday at 8 p.m., Sunday at 2 p.m. - with some additional performance times - Sept. 27-Oct. 28. (Previews run Sept. 27-Oct. 4.)
How much: $27-$41. Preview performance tickets cost $22-$32, except the first Thursday preview, on September 27, which is pay-what-you-can, with a suggested donation of $15; reservations for this performance are strongly recommended. To order tickets, call 734-663-0681, or visit www.performancenetwork.org.
"Some things are just like riding a bike, … and some things are much more difficult," Milarch said. "Learning the lines—five years of age makes a difference, and I think there's a little bit of brain rust up there. I haven't done it, it's a learned skill, and it's been a while since I just drilled lines. … And then some things are easier. I find connecting to certain parts of the character easier than I would have 5 years ago. Being a mom changes you internally, and it kind of gives you some added emotional ammunition. … But I'm thrilled and absolutely feel like a part of me that I haven't tapped into in a really long time is waking up."
"Glass Menagerie"—co-starring Kevin Young, Sebastian Gerstner and Emily Caffery—is a memory play set in 1937 St. Louis. Tom, a frustrated poet, works at a shoe factory to support his aging Southern belle mother, Amanda, who was long ago abandoned by her husband and desperately strives to improve her children's circumstances; and Laura, Tom's emotionally fragile older sister, who was crippled by a childhood illness. When Tom invites a former schoolmate (and current co-worker) over for dinner, Amanda tries to force a match between the oblivious guest and painfully shy Laura.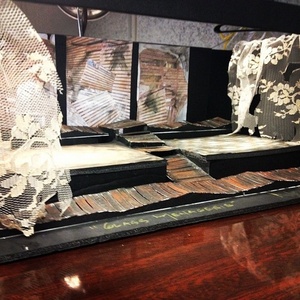 Photo courtesy of Performance Network
"There are several versions of the play that exist," said PN's artistic director
David Wolber
. "The version that Tennessee Williams preferred is one that has many more magical elements to it," like placards and projections. "It had a more abstract feeling to it, which lends itself to the memory play feel of it. … The other version of it is much more of a straight, kitchen sink drama, with a realistic story. Which it also is, but it has all these other magical parts to it. It's so embedded in the language of the play, I think I understand why he preferred this version. Because it starts with Tom's first line: 'Yes, I have tricks in my pocket, I have things up my sleeve.' So that we're doing that version of it is unique."
Tim Rhoze—who last directed PN's "Ain't Misbehavin'"—helms the company's "Menagerie," and Milarch thinks it's a perfect pairing.
"Tim's a great director for this piece because one of his greatest strengths is, he questions the obvious choices, and he really pushes you to go deeper and think harder about the choices that you're making," she said. "And he looks for the opposites, and he looks for the unexpected choices, which serves a classic very well, so you don't fall into the trap of just doing it like everybody's done it before."
And although Amanda can be a tricky, unlikable character, Milarch's affection for her is unabashed.
"I love Amanda," she said. "I think, being a mom, I can really relate to Amanda in a way that I never could before, because all of Amanda's motives are very pure. She doesn't do anything out of spite. She does everything she does out of love. Sometimes she takes it too far, and sometimes she won't let go of things, but it's all driven by her rabid desire to break out of her circumstances and create a better life for her children.
" … And the other thing I find part compelling about Amanda is her strong connection to her past. I don't see Amanda as living in her past, per se. I just feel she has a very strong connection to that idyllic time. She doesn't have anything to hold on to for hope, so she holds on to her past for hope. It's the one thing that gives her hope. And in that way, she's very pragmatic, because in that way, it's like, 'I don't have anything in my world at all that I can look to for a silver lining. I've got this one thing 20 years ago that gave me hope.' And she holds on to that."