concert preview
Capitol Steps returning with fresh material - and another election year
Posted on Sat, Jun 30, 2012 : 10:16 a.m.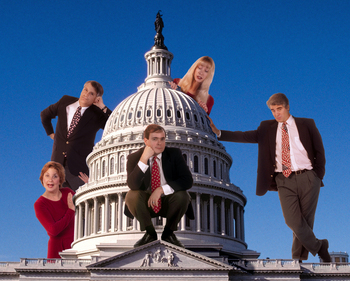 These days, any time you click a remote or a computer mouse, you can call up some sharp political satire, from the likes of Jon Stewart, Stephen Colbert, Bill Maher, Andy Borowitz, The Onion ...

But you could make a case that the Capitol Steps helped lay the groundwork for such skewerings, because they've been at it a lot longer—the Steps' origins go back to 1981.

The Steps operate in a slightly different medium than the aforementioned satirists, though: They make their satirical barbs with clever song parodies, both on record and on stage.

When the group started out, it was just seven Senate staffers who were looking for a way to jump-start the office Christmas party. But as their reputation grew, they began getting outside bookings, and, for several years now, their troupe includes 25 performers, and that's not counting the writers.

And although the troupe consisted exclusively of former Senate staffers for the first 15 years or so, they became so popular that eventually had to hire professional singers and actors for their live shows and albums.
PREVIEW
Capitol Steps
Who: Political satire troupe making its annual 4th of July appearance at the Ann Arbor Summer Festival.
What: Clever song parodies that satirize politicians, members of Congress, the president, current events, etc.
Where: Power Center, 121 Fletcher Street.
When: 5 and 8 p.m. Wednesday, July 4.
How much: $50, $45, $40, $30. Tickets can be purchased by calling the Ticket Office at 734-764-2538 or 800-221-1229; in person at the Michigan League Ticket Office, 911 N. University Ave.; or online.
And, like clockwork, the Steps will perform two shows on the 4th of July (Wednesday) at the Power Center, as part of the Ann Arbor Summer Festival. Indeed, this will the 21st consecutive year that Steps have performed at the Summer Fest — and all but the first show, in 1991, have been on the 4th.
Elaina Newport, one of the founders and still the head writer, can't believe the troupe is now in its 31st year. But, the minds of great satirists are always working, so, to celebrate their 30th anniversary last year, she says, "we wanted to write one song that would summarize as many of the political stories and scandals of the last 30 years that we could fit into three minutes."
They titled the song "We Didn't Start Satire"—set to Billy Joel's "We Didn't Start the Fire," which was a good choice, given the laundry-list approach Joel used in that song. "And we include George W. Bush's 'Mission Accomplished' banner, and Fawn Hall's bra, and Larry Craig's bathroom stall, and the shoe thrown at Bush, and Monica Lewinsky's beret….all this stuff being thrown onto the stage, rapid-fire, so by the end of the song, we have all this carnage onstage," says Newport with a hearty laugh.
Every four years, of course, during the presidential-election campaign, the Steps are served up an extra-large helping of material, and this year is no different: The Steps' latest album is "Take The Money and Run For President."
The album includes parodies like "Help Me Fake it to The Right," about the endless contortions Mitt Romney put himself through as he has pandered to the far right while also trying to appeal to independents. It's sung to the melody of Kris Kristofferson's classic "Help Me Make It Through the Night."
Says Newport of the song's inspiration: "Here you have Mitt Romney, who pushed for, and signed into law, a health-care plan when he was governor of Massachusetts, that was very much the model for the Affordable Care Act"—including the mandate that residents purchase health insurance. "But for months, he's been attacking the act from a right-wing perspective, despite that fact."
Another highlight is "The Three Little Wives of Newt" (sung to the tune of Gilbert and Sullivan's "Three Little Maids In School Are We"). That song was perhaps more current when the album was recorded early in the year, when Newt Gingrich was still in the race.
But, Gingrich received such an avalanche of criticism for trying to sell himself as a "family values" candidate, even though he's been divorced twice, and is now on his third wife—after cheating on his first two wives, and asking his second wife for an 'open marriage'—that this song will have "legs" for a long time.
"No, Newt is definitely not going to go away quietly," says Newport with another of her frequent laughs.
Another current Steps song parody is "If I Tax a Rich Man"—melodically modeled on "If I Were a Rich Man," from "Fiddler on the Roof"—sung by a Barack Obama "character," who ponders, in show-tune fashion, the political minefield that is the debate over how much the wealthiest 1 percent should pay in taxes.
Some recent additions to the show, since the album was released, are "Secret Service Man" (sung to the tune of the Johnny Rivers chestnut "Secret Agent Man") that mocks the secret service / prostitutes scandal—and "I Like Big Bucks and I Cannot Lie," which has the Mitt Romney character doing a wealthy-Republican variation on Sir Mix-A-Lot's "Baby's Got Back" rap.
"We just thought it was funny, having Romney, who's just about the whitest guy in the world, be a rapper. We call him the Plain White Rapper," she says with amusement.
But, the Steps are equal-opportunity lampooners who strike a balance, in terms of the political persuasion of those they parody. They got plenty of mileage out of the Lewinsky scandal, and they've had fun with Joe Biden, given Biden's reputation for sometimes being loquacious and gaffe-prone. And one song on the latest album is "Itsy Bitsy Teeny Weiner," about former Democratic Congressman Anthony Weiner, who resigned last year after e-mailing photos of himself in his underwear.
"Our staff pretty much runs the gamut politically," says Newport. "We have liberals, conservatives, and independents, and we don't have a political agenda. We give it to both sides.
"I sometimes read the comments on the Ticketmaster website after a show, and we get remarkably few complaints. I'll often see remarks like, "Well, they 'got' the guy I like, but they also 'got' the guy I don't like, and overall, it was a funny show."
Kevin Ransom, a free-lance writer who covers music and comedy for AnnArbor.com, first interviewed the Capitol Steps' Elaina Newport for The Ann Arbor News in 1991.