concert preview
with video:

Mustard's Retreat, still riding high from performances in Lithuania, take time for a show at The Ark Friday

Posted on Tue, Aug 21, 2012 : 5:56 a.m.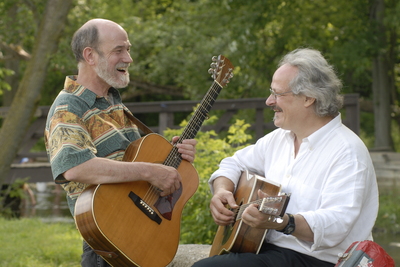 When David Tamulevich says there's "not much that's new" with local acoustic duo Mustard's Retreat, he's clearly just being modest.

Tamulevich, with musical partner Michael Hough, will play a dog-days-of-summer Mustard's Retreat show at The Ark Friday night. But the months leading up to the gig have been plenty busy for the two singer-songwriters.

There were appearances at the Tai-As Folk Festival in Lithuania last fall and this spring, a recent series of dates with folk icon Peter Yarrow (of Peter, Paul and Mary fame), and preparations for their next album—as well as a new CD from the singer-songwriter collective The Yellow Room Gang, of which they are a part.

"We don't have the new album out, but we're working on one. We have about it half done, and we still have some stuff to write. We have a video project we're trying to pull together as well. And it's been a thrill to work with Peter," Tamulevich said of their involvement with Yarrow.

Mustard's Retreat is also getting ready for an important milestone. "It's going to be our 40th anniversary pretty soon—it was 1974 when we played The Ark for the first time," Tamulevich added.
PREVIEW
Mustard's Retreat
Who: Local musical duo David Tamulevich and Michael Hough.
What: Acoustic songs and stories in the folk tradition.
Where: The Ark, 316 S. Main St.
When: 8 p.m. Friday, Aug. 24.
How much: $15. Info: www.theark.org or 734-761-1451.
Meanwhile, he said he's still riding high on his experience in Lithuania, a country with which he has a personal connection.
"They had a big international singer-songwriter festival," he explained. "I wrote to them … I said my family's background is Lithuanian. They looked at our stuff and they and the embassy over there thought we would be a great fit. So we went over last fall and played a whole week of shows."
While in Lithuania, he took the time to seek out relatives his family lost track of in the early 1930s. "We didn't know if anybody was left, so I started doing some research," said Tamulevich. "My grandfather came over and his brother stayed in a little village. His brother's daughters are still alive and living in the same little house in the village that my grandfather was born in. … This was such a profound and moving experience."
The duo has translated some of their songs into Lithuanian, and will offer a few at The Ark show, as well as some new material. "We're going to look at our experiences, what we've written and what we've learned. You always want to make Ark shows special," he said.
They will also play some songs from their most recent CD, "Living in a Dream," released this past January and the recipient of a rave review in "Sing Out! magazine.
"It's really rewarding after 30 years of doing this to have the top magazine in your field give such a great review of what we're doing," said Tamulevich.
Meanwhile, Mustard's Retreat has been invited back to Lithuania to perform this fall, and they plan to go. "There's more family to meet—more stories to hear," Tamulevich said.