CALENDAR OF EVENTS
Best Bets:

Have your say on the new Jeff Daniels play; enjoy an evening visit to the Farmers Market

Posted on Sun, Apr 29, 2012 : 3:16 p.m.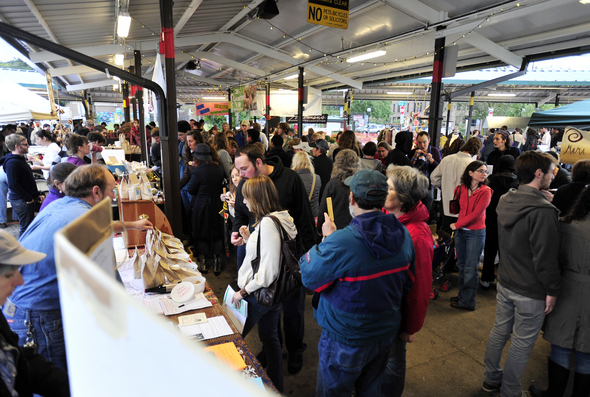 File photo | AnnArbor.com
FILM
"Martin Bandyke's Moving Pictures" series ends its run at the Michigan Theater on Monday. 7 p.m. This week, see "Jazz on a Summer's Day." A documentary about the 1958 Newport Jazz Festival. The film mixes images of water and the city with the performers and audience at the festival. Features performances by Thelonious Monk, Dinah Washington, Louis Armstrong and many others. $10/ general admission; $8/ students, seniors and children under 12. The Michigan is at 603 E. Liberty St., Ann Arbor. 734-668-8397.
THEATER
The Purple Rose Theatre will present a concert reading of Jeff Daniels's new play "The Meaning of Almost Everything" at Ann Arbor District Library on Tuesday. 6:30-8:30 p.m. Come see the cast and director Guy Sanville in action, then stay and offer your opinions on this new work by Michigan's most famous playwright. Free. The AADL is at 343 S. Fifth Ave., Ann Arbor. 734-327-4200.
FOOD
Head to the "(un)Corked Wine Tasting" for a taste of Michigan wine superstars 2 Lads Winery at Live/The Last Word (formerly Live at Pj's/Goodnite Gracie's) on Tuesday. 7:30 - 8:30 p.m. 2 Lads are located on 58 acres of the Old Mission Peninsula in Traverse City. They are one of the newer stars of the wine world and certainly one of the best in show in Michigan. $15, includes a sampling of five different wines. Purchase tickets in advance as these events always sell out, and they do not accept ticket sales at the door. Purchase tickets at awe.sm/5ihEC. Live is at 102 S. First St., Ann Arbor. 734-623-1443.
FOOD
Stock up at the "Wednesday Evening Farmers Market" at the Ann Arbor Farmers Market. 4:30-8:30 p.m. There will be live music, food carts, and throughout the season a non-profit sponsored beer and wine garden, as well as educational food demos and more. Free admission. The Farmers Market is at 315 Detroit St., Ann Arbor. 734-794-6255.
THEATER
See "The Met: Live in HD: La Traviata" encore at Rave and Quality 16 movie theaters on Wednesday. 6:30 p.m. Acclaimed French soprano Natalie Dessay makes her Met role debut as Violetta, the fallen woman who sacrifices her last chance for love. $24. Rave is at 4100 Carpenter Road, Ypsilanti. 734-973-8424. Q16 is at 3686 Jackson Road, Ann Arbor. 734-623-7469.